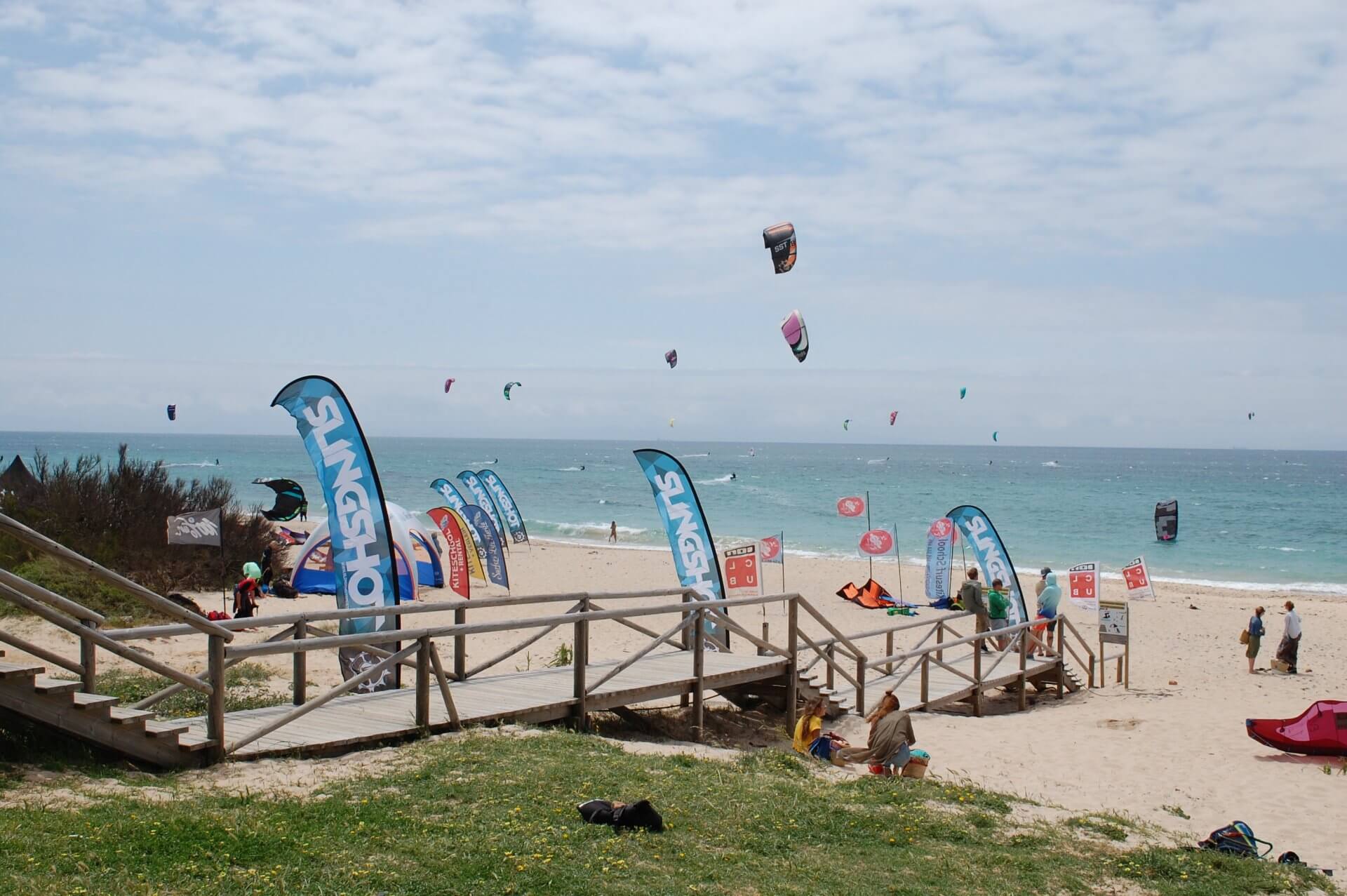 ON THE WATER
Tarifa is a kiteboarding mecca. Sitting at the very bottom of Spain, this spot is windy all year round with numerous rideable locations along ten kilometres of beach. There are more schools here than in perhaps any other single kiting destination as well as over 40 kiteboarding related businesses being based here. The percentage of top riders who've grown up here or chosen to make Tarifa their home is high. Over the years it has manufactured many of the biggest names in the sport, giving them the opportunity to train in a wide variety of conditions.
Being so popular, the designated kite zones do get busy from June to August, but there's usually space further out back. Outside of those peak months Tarifa delivers wind and great weather almost year round, so you can avoid the crowds and get some solid riding in across a range of spots.
Ride flat water close to the beach or in the lagoon (when it's full – and when you're allowed) or find onshore wave riding on a 'Poniente' wind direction out of summer. When things switch up to Levante, particularly during winter, score some cross-off down-the-line wave riding, too! Most of the kiting happens between Los Lances and Valdevaqueros but there are also a number of other spots nearby, including a flat water spot with kickers called Palmones – which is in the bay of Gibraltar.
Balneario is right next to town and popular with the many pros. The road out to Isla la Paloma forms a breakwater with butter flat water when the Levante blows and you'll see some epic mega-loop and wave performances going down there when it's on!
If it's really windy, head an hour north to the solid wave spot, Caňos de Meca, or go east to Palmones which has flat water in the river and bump 'n' jump conditions out in the bay.
WIND, WEATHER AND WATER
There are two vastly different wind directions here – the westerly, cross-onshore Poniente which come in steadily from the right and rarely gets up to much more than 25 knots; and the legendary Levante wind which comes from the east. Levante blows cross-off on the main beach at Los Lances, sometimes gusty and can be absolutely nuclear in strength, so pack your smallest kite and do you harness up nice and tight! There can be some superb Levante sessions that are less strong though, and as it's a warmer wind, can be great for summer time.
When the Levante blows it's a good idea to grab some rescue boat tokens if you're already a proficient kiter but would like to have an insurance policy if you make a mistake in offshore conditions – Explora Watersports can organise this as well as lessons and coaching. Head to Valdevaqueros in a Levante which is more cross-shore and where the beach wraps round to catch you if you can't get your kite back up (providing you're not very far out). The Levante wind is the most regular wind direction in the summer and it's great when it's not blowing too ferociously, while the Poniente is more frequent in spring, autumn and winter. The wind stats don't really reflect the part that thermal effects have to play with the wind strength in Tarifa and, from May through until October, you can usually rely on there being several knots more than is forecast. You'll rarely need a bigger kite than a twelve and when it's really blowing through you'll need a five metre (if you're brave enough) so take your full quiver to be safe. You can get big spring tides in Tarifa with lagoons often forming in autumn and winter, which is great for some flat water action!
In this past year, surf foiling has also become popular among the locals with the vast array of water conditions that Tarifa throws up, from small and big swells, to more wind powered rolling swells. Anything goes and this is home to some very experimental riding groups and pioneers.
Air temperatures are always pleasant, but can dip to 14°C / 57°F in January with highs of 38°C / 100°F in July / August. The average is 15 – 20°C / 59 – 68°F November to April and 25 – 30°C / 77 – 86°F in spring and autumn and the water gets warm in the summer so you'll need only boardies or a shortie wetsuit. The average water temperature is 15 – 18°C / 59 – 64°F throughout the year and you'll need a spring suit in the winter.
OFF THE WATER
Looks can be deceiving – during the day, the town has a sleepy demeanor, but at night, Tarifa bursts into life, with fantastic food and nightlife on tap. Authentic tapas to high-class cuisine or pizzas are all a delight. There's nowhere quite like it if you want to kite all day and then unwind and party with likeminded people in either chilled bars along the Calle de San Francisco or in the rammed nightclubs, some of which are open all night and well into the next day. That said, the authentic Spanish way of life is evident here and children happily play and socialise with the rest of the family late into the night outside restaurants, too. Vaca Loca, an Argentinian steak house, and Lolas are two of our personal favourites. There are also a few options on the way to the beaches if you don't want to venture into town and Ion Club at Valdevaqueros is a great place to hang out after a kite session.
Tarifa is well set-up to meet popular demand with plenty of accommodation, from boutique hotels within the picturesque old town, luxurious beach hotels as well as mid-range and budget hostels, numerous campsites and a wealth of self-catering villas, apartments and houses. A short distance out of town is Facina, on the natural park, Los Alcornocales. It's far quieter here and gives you the option to escape the madness in Tarifa and fully relax in a picturesque spanish village with stunning houses (see Facinas Houses). If you're wanting lessons or rental with your accommodation, then Explora Watersports provide a choice of accommodation, from the good-value Tarifa Surf House to private studio apartments. Despite all the talk of partying, Tarifa is also great for families and couples. There's plenty of family-friendly hotels, like the Hurricane Hotel which is right on the beach – the first wind sport inspired hotel in Tarifa. There are also self-catering properties and campsites, but book well in advance for summertime.
The supermarkets are well stocked with standard European produce but make sure you try out the traditional Spanish meats, cheeses and fresh seafood. If you're staying with a school then they'll usually ferry you to the beach in the mornings. It's worth hiring a car to get to the various spots and make the most of the area, though. Top tip: set off to the beach early in summer as the beach road traffic can be slow.
The non-kiting options are vast as Tarifa is hailed as the 'adventure capital of Europe'. Among Tarifa's beaches are small coves of more difficult access that offer a quieter day, as well as beaches with impressive dunes that are well worth visiting (one of them, Bolonia, has well-preserved Roman ruins that can be visited). Travel to other cities like Malaga or Seville takes about two hours by car. The proximity of Africa also offers the possibility of making a quick visit to Morocco, with ferries leaving from the docks everyday. There are also companies that specialise in excursions for whale or bird watching around this area. You'll find a cable park in Marbella, while Malaga – the birth place of Picasso – is 90 minutes up the road and is packed, as you might imagine, with museums and art galleries. For more action sports, there's incredible mountain biking and hillwalking, climbing to the north and at the bouldering wall in town, gorge walking and horse riding to be done.
AIRPORT
Malaga (AGP) is a 90 minute drive from Tarifa with flights coming in from all over Europe. Jerez (XRY) is only about a 60 minute drive from Tarifa. Gibraltar (GIB) is just 40 minutes away. Make sure you collect your car from the Spanish side of the border to avoid the queues to get onto the island when returning, though.
GOOD FOR: Tons of wind, a wide range of spots and a legendary party scene! ■