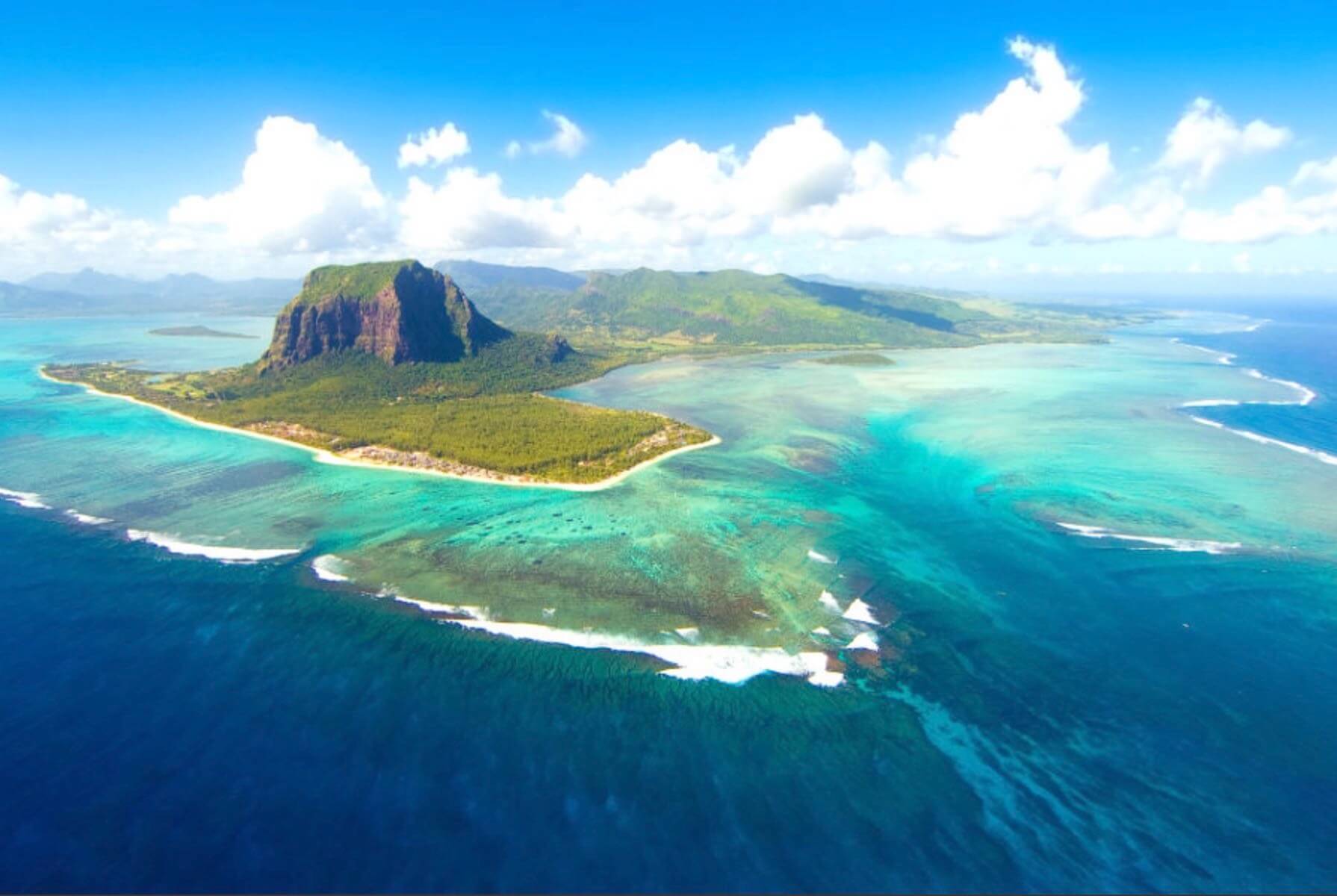 "Probably the best island kiting set-up in the world, with wave riding for all levels, flat waters for twin-tipping, some foiling spots and luxury accommodation to keep all the family happy!"
ON THE WATER
Mauritius offers impeccable kitesurfing conditions for every type of rider, largely due to the combination of incredibly reliable wind, perfect flat water and of course world-class waves. The small volcanic island boasts more than 150 kilometres of white sandy beaches and is surrounded by coral reef, which not only forms protective lagoons, but also offers up some big rolling waves like the infamous 'One Eye' at Le Morne.
Working clockwise from the north of the island, the main spots are Anse La Raie located in the northern tip, with Belle Mare just 45 minutes south down the east coast. Pointe d'Esny is the closest spot to the airport located in the south-east, with Bel Ombre and the most popular spot – Le Morne – in close proximity to each other in the south and south-west.
The windiest spot on the island is Le Morne which happens to also be on most kitesurfers' bucket lists. Despite being well known for its waves, Le Morne is very suited to all kitesurfing abilities. Clean winds blow all day long and beginners will have every opportunity to get up and riding quickly in the safe, knee to chest-deep lagoon that also serves as a freestyle playground.
The GKA Kite World Tour will visit Bel Ombre again in September
Tack about 600 metres offshore to the outer reef and you'll discover a gradual progression in wave types available, from the easy shredders at 'Small Reef', to 'Manawa', which is one kilometre from shore and offers bigger, rolling waves at high tide. Both waves are serviced by the rescue boat if needed. For the truly experienced wave rider, 'One Eye' lies to the right where the wind blows consistently cross off-shore from the left. However, approach with extreme caution as there are no rescue facilities once the waves get over a certain size as the boat can no longer get beyond the reef. This is a serious wave, occasionally breaking quite shallow. There are plenty of waves here to keep you stoked without needing to venture to One Eye and possibly get yourself in trouble… no matter how many images and videos you've seen from there!
Bel Ombre shares the same lagoon waters as Le Morne but is the much less crowded spot of the two and has lovely protected flat waters being in the upwind corner, so feels like it's in its own lagoon. The flat water and cross on-shore winds are perfect for beginners and the entire area is surrounded by a reef belt offering up some nice waves, too. A 15 minute drive away, Bel Ombre is a great spot for downwinders which can be run all the way back to Le Morne inside the lagoon, taking between one and two hours.
At the opposite end of the island, Anse La Raie is another great alternative to Le Morne and has a vast lagoon reaching out almost 2.5 kilometres from the shoreline, creating a huge flat water playground. The spot is a very safe location to learn at as it's in a protected bay. There are some small waves on the outer reef, however, there is no rescue cover here so kiting is at your own risk (but there is an ION Club there, so check in with them for guidance on these waters / waves).
A short drive south from Anse La Raie down the east coast you'll find Belle Mare, which offers beautifully flat and uncrowded water inside a closed turquoise lagoon.
The easterly prevailing cross-onshore winds here tend to be calmer than Le Morne in the south. Expect to be riding your nine to 12 metre kites in the awesome lagoon waters around Belle Mare.
Pointe d'Esny is a quiet kiting paradise that's gaining a reputation for foiling with a huge flat water lagoon, away from the mass tourism of other parts of the island. Located in the south-east of the island, this spot offers a tranquil playground where you can really enjoy your time on the water. The wind here is generally south or south-east which is cross-shore, but to enjoy the freedom of the spot you will need basic skills to navigate beyond a line of small boats that anchor close to the shore. The wind is consistent and clean but is lighter than some of the more popular kitesurf spots on the island, so bigger kites are needed.
WIND, WEATHER AND WATER
There are only two seasons in Mauritius: summer (their wet season) and winter (their dry season), although the weather remains warm throughout the year. The southeast trade winds blow 15 to 25 knots from April until early November, which coincide with winter, and the windiest months are July, August and September. The winter air temperatures range from a very pleasant 20 – 26°C / 68 – 78°F and the water temperatures remain at 20°C / 68°F. Most people doing long sessions kite in a shorty or neoprene top, but you could get away with shorts / rashie at times. During the winter evenings, you'll need a sweater as you can expect a drop in temperature. When kitesurfing in Mauritius there are some coral patches within the lagoons, so booties are often recommended for more inexperienced riders.
OFF THE WATER
Mauritius is a perfect destination for those looking for the ultimate, relaxing kite holiday and some of the bigger hotels offer fantastic kids' clubs too. Once settled at your hotel (assuming you booked it based around kiting) there is little need for a vehicle, so most people just opt for airport transfers. However, if you want the freedom to explore, then renting a car is the best option – and it's also vital if you choose to stay in the fishing village of La Gaulette near Le Morne, rather than a beach front resort. It's also easy to traverse from one end of the island to the other in about an hour-and-a-half.
Should you ever encounter a no wind day, then there are a variety of activities on offer throughout the island, such as hiking, canyoning, climbing, tennis, horse riding, trekking and mountain biking. Mauritius has many world-class golf courses and deep-sea fishing is also very popular. Most water activities are on offer and there's spectacular snorkelling and diving, too. In the evenings you can enjoy 'sundowners' before indulging in some of the superb local food and delicacies. Mauritius is not a destination for those seeking a lively club scene, but definitely provides the opportunity to relax and recharge.
GOOD FOR: The ultimate on-water conditions and immense luxury off the water!
AIRPORT
Percentage of days with wind over force 4 / 14 knots
Sir Seewoosagur Ramgoolam International Airport (MRU) is located in the southeast of the island but it's never more than a 90 minute drive from all the kite spots. Pointe d'Esny is the closest at just 15 mins away.