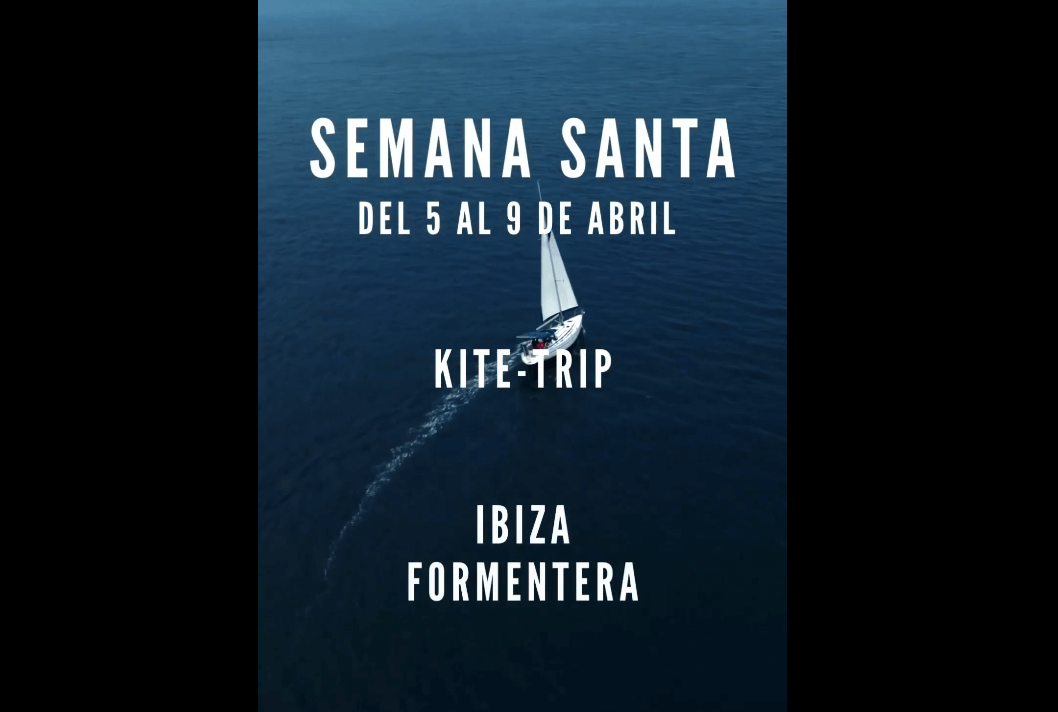 Ibiza Formentera Kitesurf Wingfoil Cruise is for everybody who enjoys kitesurfing and wants to experience it in the crystal blue waters and natural beauty of Ibiza and Formentera.
Looking for a new adventure that will leave you feeling exhilarated and refreshed? Come join us on a kitesurfing wingfoil kitetrip in the stunning islands of Formentera and Ibiza!
Our experienced team will guide you on a boat that sails to the best kitesurfing wingfoil spots, always seeking out the perfect wind. Whether you're a beginner or an expert, you'll be able to soak up the Caribbean-like vibe of these beautiful islands.
We prioritize safety above all else, so you can rest assured that you're in good hands with us. Don't miss this opportunity to explore the incredible waters and landscapes of Formentera and Ibiza. Contact us today to learn more!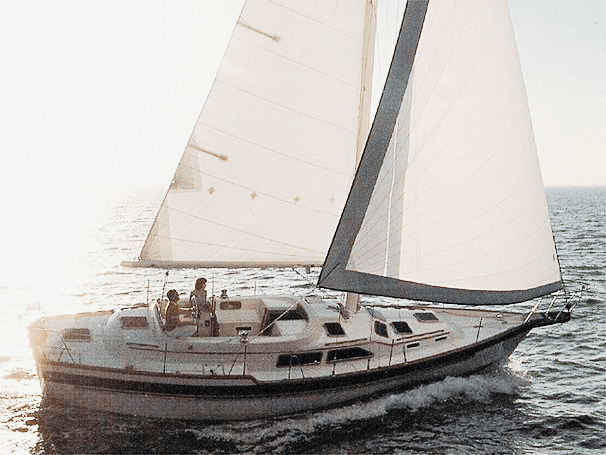 The crystal clear blue water is the perfect place to advance your riding, we have the whole sea to ourselves, no crowds, just easy riding in perfect conditions of 13 – 20 knots. You only stop when you have had enough!
Planning
April 5
Meeting day. You have all day long to arrive at the port at the most convenient time for you.
April 6
First day of sailing. We will leave early in the morning to go out and search our first spot.
April 7
Downwind. We will move to Ibiza or Formentera to do our downwind between islands. Afternoon to rest, sail, walk or yoga at the beach.
April 8
Sailing with the boat and try new water sports. In the afternoon we will have time to get to know the island and enjoy a dinner out all together.
April 9
We will wake up and take the breakfast. We will sail back to the port so that everyone can leave at the time that suits better for you.
*Keep in mind that all these activities, as well as their order, depend on the weather, so plans could move and/or change
Transport
FLIGHTS – IBZ VUELING, RYANAIR, IBERIA
Transfer from the airport to the boat is included as long as we know your arrival time in advance.
IMPORTANT YOU MUST BRING YOUR OWN KITESURFING OR WINGFOIL EQUIPMENT
FERRY – IBZ SAN ANTONIO ABAD Balearia, GNV, Transmed
There are ferries from Gandía, Dénia, Valencia and Palma to Ibiza. Transfer is included.
Accommodation
OCEAN SAILBOAT IRWIN 43 MKIII
Breakfast included
Double rooms
Double bed
bathroom in room
Chill out and solarium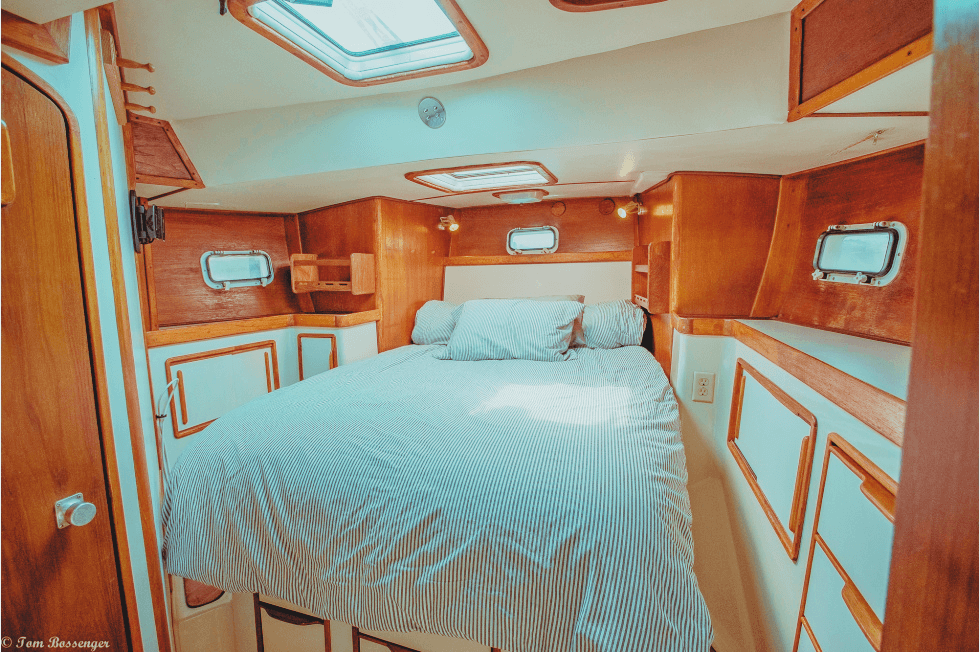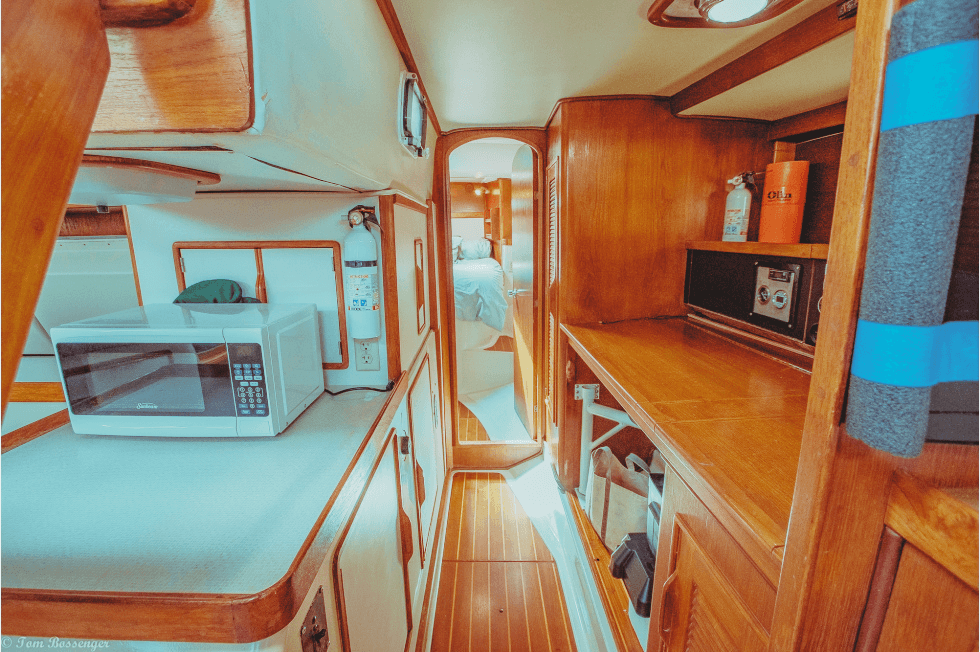 Trip cost
€790 per person – Booking before March 15
€850 per person – Booking after March 15
INCLUDES
– Accommodation
– Meals (breakfast, lunch and dinner)
– Rescue boat
– Alternative activities in case there is no wind
– Transfers with the boat
– Port taxes
– Gasoil
– Transfers
NOT INCLUDED
– Flights to Ibiza
– Kitesurfing/windsurfing/wingfoil equipment
– Nigh out dinner in restaurant

The Spot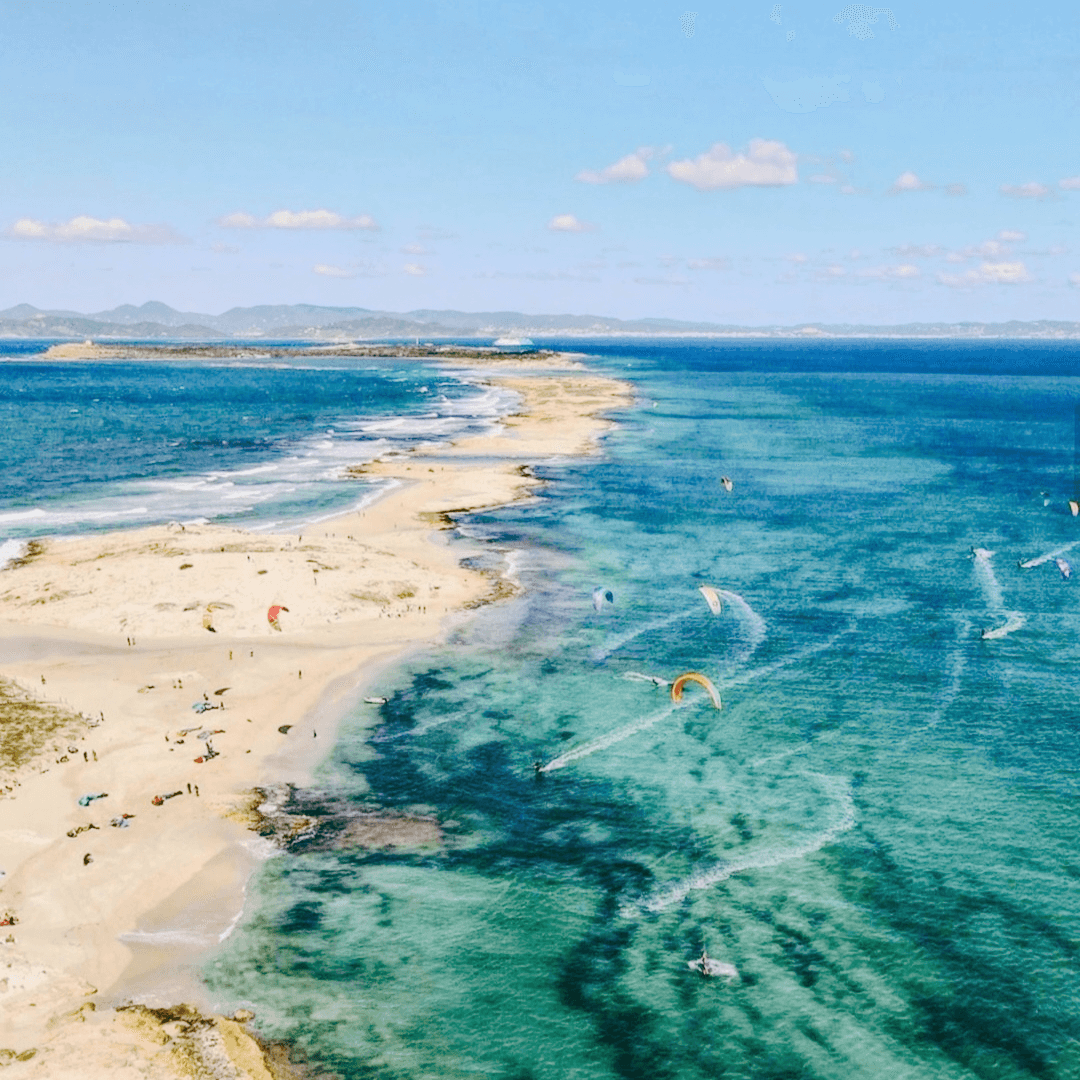 We're excited to tell you more about the kitesurfing experience we offer at our main spot in Formentera. The spot is located in the north of the island, in the El Paso, Illetes, and Llevant beach area. With all winds working at this spot, you'll have a great time kitesurfing no matter what the weather conditions are.
The spot is unique because it features two beaches separated by a fine line of sand. This allows you to choose whether you want to kitesurf in flat seas, with waves, or jump from one to the other. It's a great opportunity to try out new tricks and techniques.
When the wind conditions are just right, we also offer a downwind experience between islands. You can choose to go from Ibiza to Formentera or vice versa, and experience the thrill of kitesurfing in open waters. It's an unforgettable adventure that we highly recommend!
If you have any questions or would like to book your kitesurfing experience with us, please don't hesitate to reach out. We're here to help and can't wait to show you the best kitesurfing spots in Formentera and Ibiza.
Forecast wind conditions
The Monday 3rd before your trip, we will send you the wind report so that you can decide which size sails to bring and make a forecast of the spots in which we are going to sail during these days!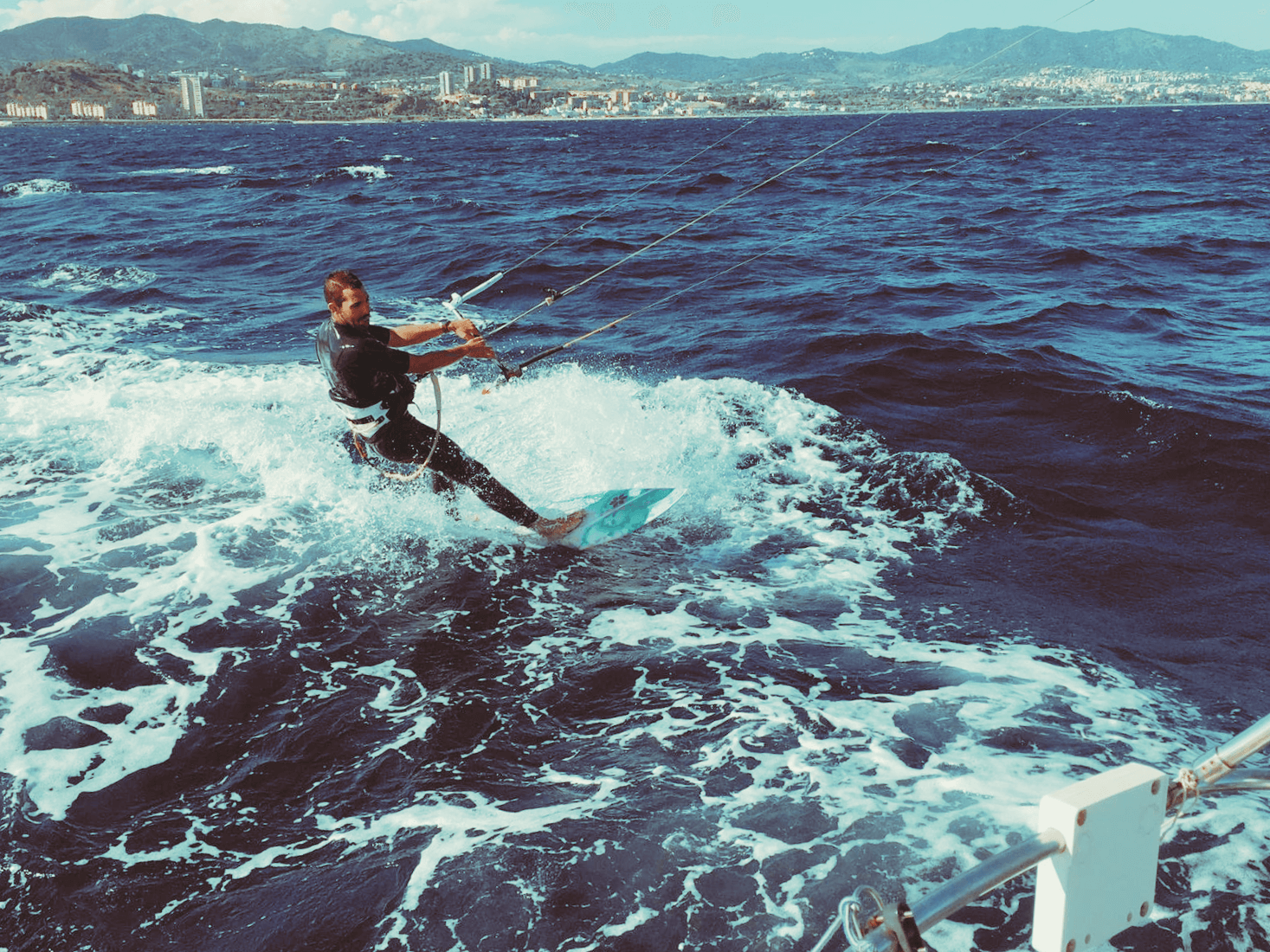 WHAT IF THERE IS NO WIND?
We have a lot of options so that you can equally enjoy the sea and sports. Wakeboard, wakefoil, paddle, biking, trekking, snorkeling, apnea… A thousand options to choose from!
travel tips
Add the option of special luggage when you buy your flight ticket
Go to the airport in time to check in the equipment.
Bring a long wetsuit, and if you are cold, a hood and booties. Warm clothes will be a good ally at night and when you get out of the water.
Yes you have, bring your reusable water bottle
Let's go!
I HAVE IT CLEAR
Leave your information here to sign up. You don't have to pay anything yet.
DO YOU NEED TO THINK ABOUT IT?
I advise you to leave your information and ask me any questions you may have. There are only 4 places!
ONLY 4 PLACES
MORE INFORMATION ABOUT KITESURFING AND WINGFOILING IN IBIZA AND FORMENTERA
Summer Season (May-October)
Winter Season (November-April)
SUMMER SEASON
In Ibiza, the western part of the island where the wind blows with more intensity, since a thermal wind is formed every day from the South, Southeast and Northeast directions, with an intensity between 13 and 20 knots.
We have 2 seasons that makes the difference.
September, would be the most irregular, due to the fact that the thermal wind begins to
disappear from October 15 more or less to make way for the winds of squall.
In Summer, the practice of Kitesurfing from the beach is forbidden from May till November, you can kitesurf and wingfoil offshore with a safety boat to look for the thermal winds.
WHAT DO WE DO IN THE WINTER ?
From November to May we have winter storms that create warm winds that blow nearly all winter.
The water temperature is always warmer than Northern Europe, the waters are clear and the beaches are deserted. It's kitesurfing paradise!
The water temperature is always warmer than Northern Europe, the waters are clear and the beaches are deserted. It's kitesurfing paradise!
Because of the stronger winds, our yacht and crew are moored in the port of Formentera, close to the kitesurfing beaches and all the shops and restaurants.
Everyday we will drive to the beaches or if the weather permits we will sail to Es Palmador, an uninhabited, pristine island with crystal waters to the north of Formentera.
We look forward to showing you the beautiful kitesurfing spots in Ibiza or Formentera and ensuring your time aboard this beautiful classic styled sailing yacht is very special.
We look forward to showing you the beautiful kitesurfing spots in Ibiza or Formentera and ensuring your time aboard this beautiful classic styled sailing yacht is very special.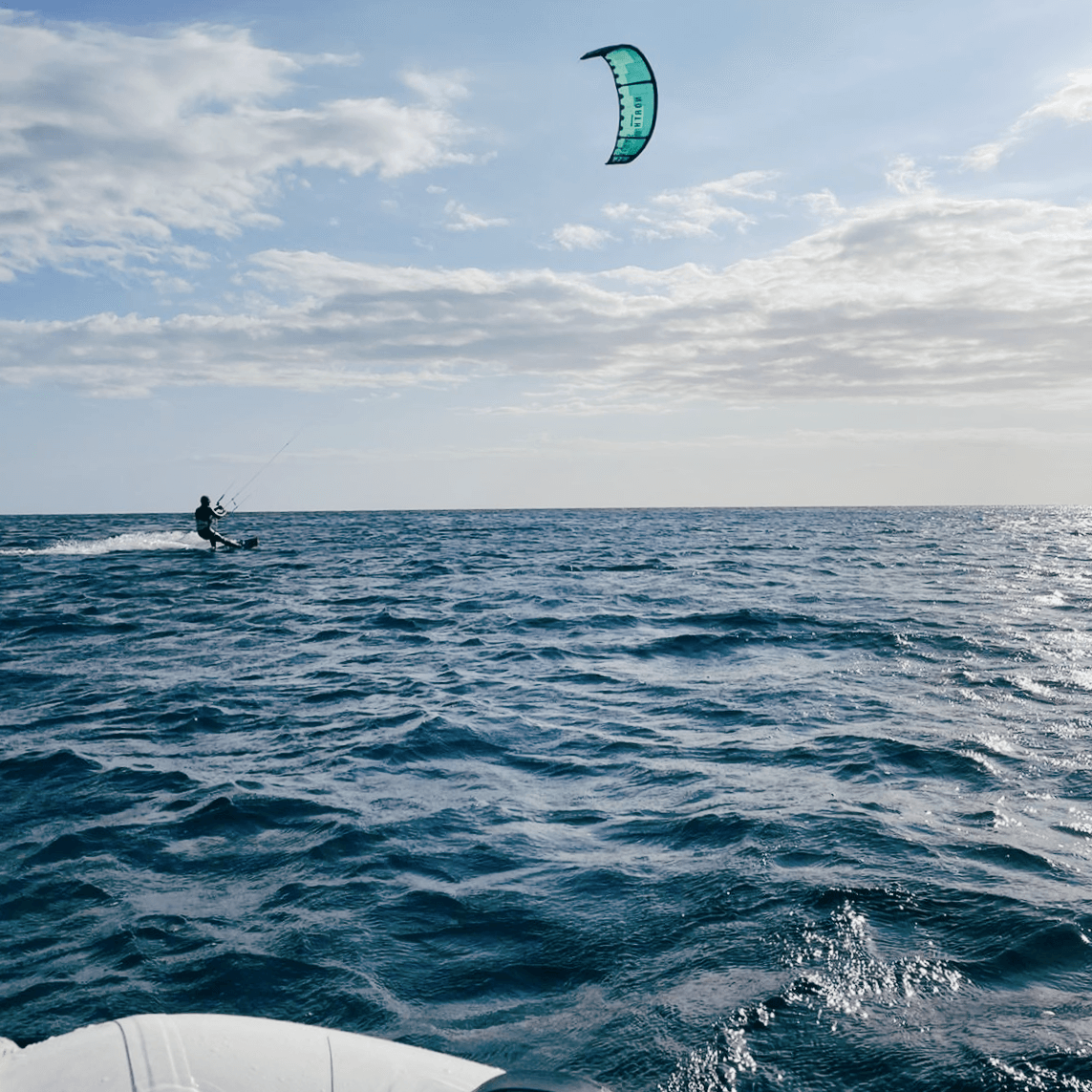 It is a project that was born with the illusion of being able to offer all lovers of Kitesurfing and wingfoil the possibility of practicing it in the wonderful waters of Ibiza and Formentera.
Our sailboat, 14 meters long, 6.30 meters wide and with a capacity for 4 people, is the protagonist of this wonderful adventure.
This project tries to enjoy wingfoil kitesurfing and nature, around the islands of Ibiza and Formentera, with all the comforts.
Enjoy life every day with us.
This project is designed for lovers of Kitesurfing and wingfoil and also for those who want to enjoy the sea and nature.

FOR MORE INFORMATION AND BOOKINGS PLEASE CONTACT US BY WHATSAPP AT +34 644881878 OR EMAIL AT INFO@BUSCOKITE.COM OR FROM THIS CONTACT PAGE HERE