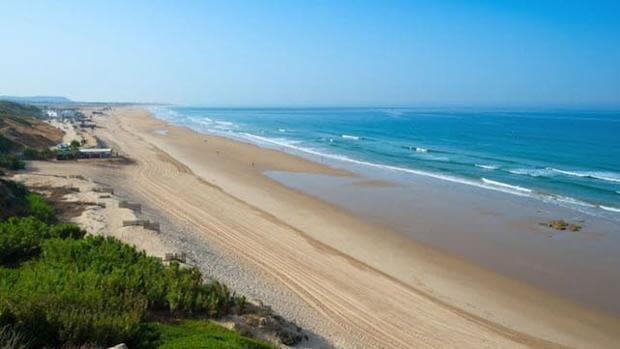 Due to its long and wide beaches, Conil de la Frontera offers perfect conditions for kitesurfing. In addition we have the Salado River, which in days with high tide coefficients (minimum 90), becomes a natural pool with flat water that for the most part allows foot.
WINDS TO NAVIGATE IN CONIL.
The beach is oriented from northwest to southeast, so the winds most suitable for practicing are the west component.
-West: The best wind in Conil, constant and smooth. On stormy days with strong winds, waves are created that can reach 3 or 4 meters, not suitable for beginners, but very fun to jump.
-South: It usually appears in the morning after several days of rising and before changing to the west. But you have to be an early riser, almost never hold until later than 13:00 hours.
-East: Off-shore and gusty wind. If you are in the area, it is best to travel to Caños de Meca to practice.
-North: Offshore wind, cold and passing over the village creating gusts that can leave you thrown when you return to land. The further south, the more constant it becomes.
BEACHES AND SEASONS.
During the winter season (from September 16 to June 14), you can practice kitesurfing on all beaches in Conil without any restrictions, except for respect for other beach users and common sense.
In the summer season (from June 15 to September 15), kite surfing is prohibited within the Salado River, and on the beaches of Bateles and La Fontanilla. The only place where kitesurfing is allowed at this time of year is on Castilnovo beach, from the mouth of the Salado River to the south.
Even if this area is marked and marked for water sports, the other users of the beach do not usually pay attention or respect, and we must be careful not to get ahead of any confused bather or children who They play on the shore. Remember that the beach belongs to everyone and you do not need to throw the tricks on the same shore. Use the buoyed area to enter the water and return to it only to leave again, keeping most of the time far enough not to put at risk to other users if any maneuver goes wrong. If we minimize risks and are respectful, kite surfing in Conil will enjoy a good reputation and we will be able to enjoy its beaches for many years!