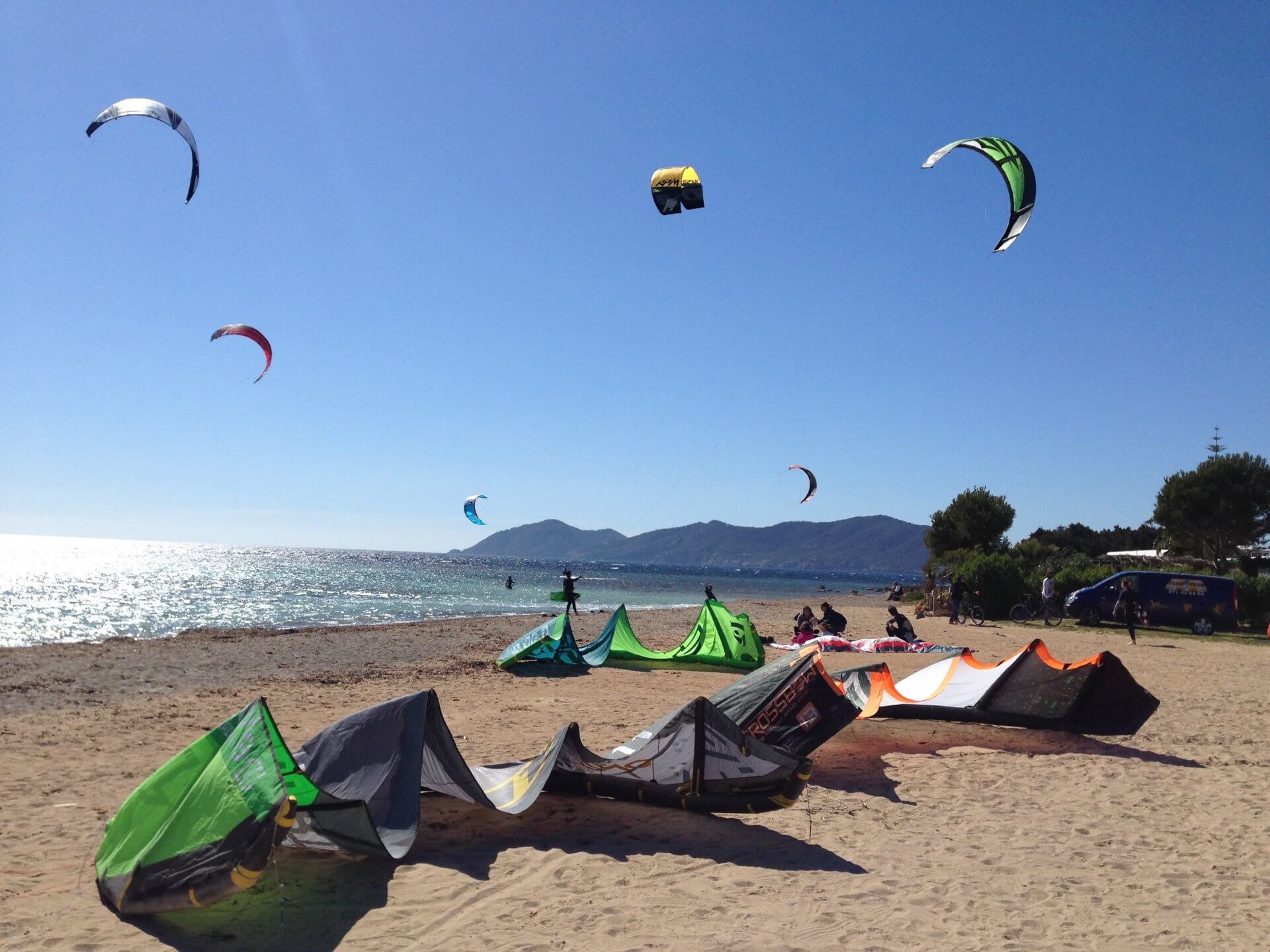 The island of Ibiza is a spectacular location for kitesurfing in spring and summer, with thermal winds, and in winter, with strong winds from storms. However, kitesurfing is prohibited on beaches during peak tourist season, and it is only allowed from November to May.
WINTER SEASON
The wind direction changes to more West, Southwest, Northwest, and North, with wind speeds ranging from 15 to 30 knots.
In winter, thermal winds do not work, but we depend more on storms, which provide quite strong winds. The most common kite sizes are between 5 and 8 meters.
The coldest months are January and February, with an average temperature of 15 degrees Celsius, depending on the wind direction. If the wind comes from the Southwest, it is a warm wind, and we can reach temperatures of up to 20 or 22 degrees Celsius. When the wind is from the North, it can drop to 12 degrees Celsius.
During winter, there is no fixed beach for kitesurfing, as we move to different beaches depending on the wind direction. Here are the different spots we have:
SPOTS
San Antonio (Arenal Beach)
This spot works from October to April with West winds. The beach is long but narrow, with an onshore direction and a slightly choppy flat sea. Suitable for all levels.
Es Pouet Beach
This spot works with Northwest winds. It is quite small, with an onshore direction and waves, and only suitable for experts.
Cala Pinet
You can only access this spot from Arenal Beach or Es Pouet Beach, and you have to sail upwind for 15 meters, but it's worth it. It is a spot with perfect and orderly waves for surfing, with side winds and left-breaking waves. The best surfing spot on the island. It works with West and Northwest winds starting from 20 knots. Suitable only for experts, as the wave borders the rocks and can be risky if you make a mistake.
Cala Conta
This is one of the most beautiful beaches on the island, but also the most challenging and risky spot due to its strong currents. It has good waves for surfing, provided you don't make any mistakes. It works with West-Southwest winds, and the beach for launching is tiny. Suitable only for experts with medical insurance.
Ses Salinas Beach
This beach works with South winds. This wind is not very common on the island, so it's rarely navigable. The wind is onshore, with waves. Suitable for intermediate levels.
Es Cavallet Beach
This spot works with Northeast winds and is another surfing spot. The wind is side-on from the left. The beach is large, and the waves are not organized and break irregularly, but it's still a good spot for surfing. Suitable for experts.
Playa d'en Bossa
This spot works with East winds, and depending on the intensity of the wind, it can produce good waves for surfing. If the wind is light, there will be choppy conditions, and the direction will be side-on from the left. It is the largest beach on the island and suitable for all levels if the wind is light. Kitesurfing is not allowed in the southern part of the beach due to airport regulations.
Cala Martina
This spot works with Southwest winds and is the freestyle beach par excellence, with a flat sea and constant wind as long as the sky is clear. The beach is not very large, but the Cala Martina restaurant is open year-round, where you can eat or drink while watching everyone kitesurfing. Suitable for all levels.