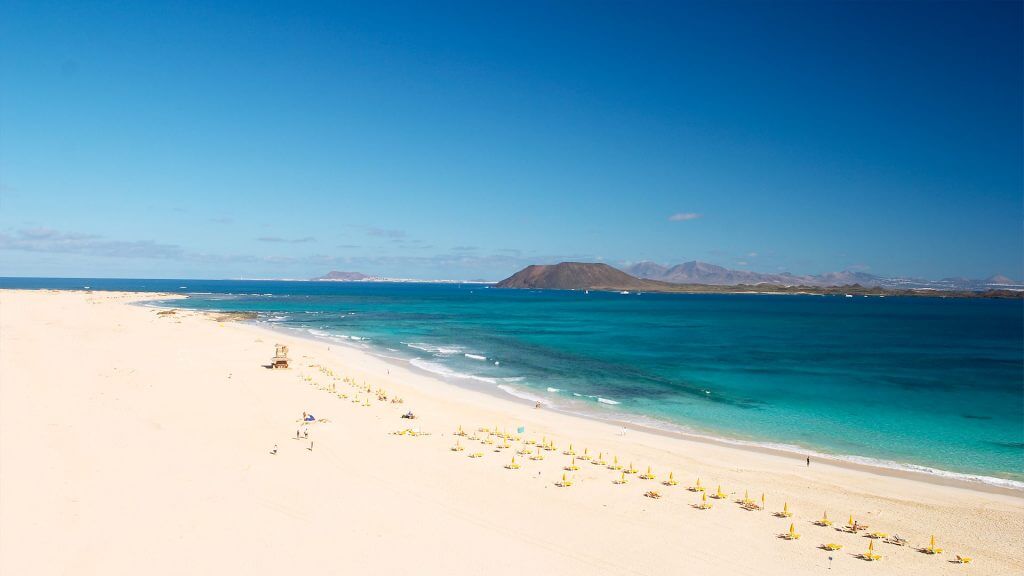 Corralejo is a small town in the north of Fuerteventura. It is a village with a lot of variety but above all with great surfer and kiter atmosphere due to the proximity of the spots to enjoy these sports.
The practice of kitesurfing is concentrated mainly around the Great Beaches, a series of beaches that accompany the Natural Park of the Dunes of Corralejo.
FLAG BEACH
ON THE WATER
Flag Beach in the north of the island is Fuerteventura's other major kiting location and one of Europe's best known spots for all levels of rider. The beach is wide and protected by reefs at both ends with clean wind from the left for much of the year, particularly in summer.
Flag Beach is ideal for freeriders, freestylers, foilers and beginners with plenty of space. Meanwhile, 20 minutes away is Cotillo, a very credible wave spot. Another one is Glass Beach, just five minutes from Flag Beach in the nearby nature reserve. Both Cotillo and Glass Beach are affected by the tides, so picking the right time to go is key and there are many more wave spots around the north of the island that local kiters can point you towards (if you're especially nice!).
No major crowds at Flag Beach
WIND, WEATHER AND WATER
Summer is the most reliable time with the strongest wind in June and July, but it's generally very consistent from March to April when the northeasterly trade winds blow through. You'll usually be on nine to 12 metre kites but there are stronger small-kite days, too.
If you're looking for waves then the north of the island is the place to be and the best time is in winter when the swells increase and the wind swings more onshore. There are also some spots on the east coast with wind from the left.
Flag Beach doesn't get unbearably busy in summer, but winter is quieter and you can still be out on three or four days a week at that time of year. Air temperatures go from 28°C / 82°F in summer to 22°C / 70°F in winter. The water temperature is around 22°C / 72°F in the summer and 18°C / 64°F in the winter when you'll need a long suit.
OFF THE WATER
Most of the off-water activity happens around Corralejo which is next to Flag Beach. It's a busy tourist town with supermarkets, shops and plenty of restaurants, including some excellent tapas joints as well as cafes and bars with lively nightlife.
If you want to stay close to the action then you can find Airbnb properties around town from as little as €20 p.p.p.n as well as other options from hostels to five-star hotels. There's more accommodation / villas to be found in nearby villages like Lajares too, which is more tranquil.
On no wind days you can SUP or surf if the waves are on (there's a serious local surf scene) or go snorkelling, deep sea fishing or scuba diving. On dry land there's mountain biking, hiking the volcano and mountains inland as well as quad bike excursions, to name just a few activities. Corralejo's a family-friendly spot with plenty of stuff to keep kids busy, including a waterpark!
It's possible to drive the length of Fuerte in less than two hours and it's definitely worth renting a car if you want to try out a few spots during your stay. Fuerteventura's other key spot, Sotavento, is in the south of the island and is also featured in this guide.
AIRPORT
Fuerteventura Puerto del Rosario (FUE) airport is a 30 minute drive from Flag Beach / Corralejo and taxis, buses and hire cars are available. EasyJet frequently fly to Fuerteventura and fares can be cheap!
"Fuerteventura is a very special place with everything from pumping waves to kicker freestyle at Flag Beach as well as flat lagoons if you know where to look. Deciding which toys to put in your car is the hardest part!"
TOM COURT, DUOTONE PRO RIDER
SCHOOLS
FLAG BEACH has been operating here for 31 years! They're open 365 days a year, teaching all levels with a max ratio of 2:1. A rescue boat is always on hand for lessons (or it's €30 for 15 days cover if you want to book it). You can hire the latest Duotone and Ozone gear. Hobie cat, windsurfing, SUP and surfing lessons / rentals are also available. Accredited by: VDWS (also with IKO certified instructors) Languages: English, Spanish, Italian, German, French, Polish, Dutch, Russian.
GOOD FOR: A care-free kite trip just a short flight from Europe with warm water in summer and waves in winter ■
The best known is the beach of the Old, commonly called "Flagbeach" among the kiters.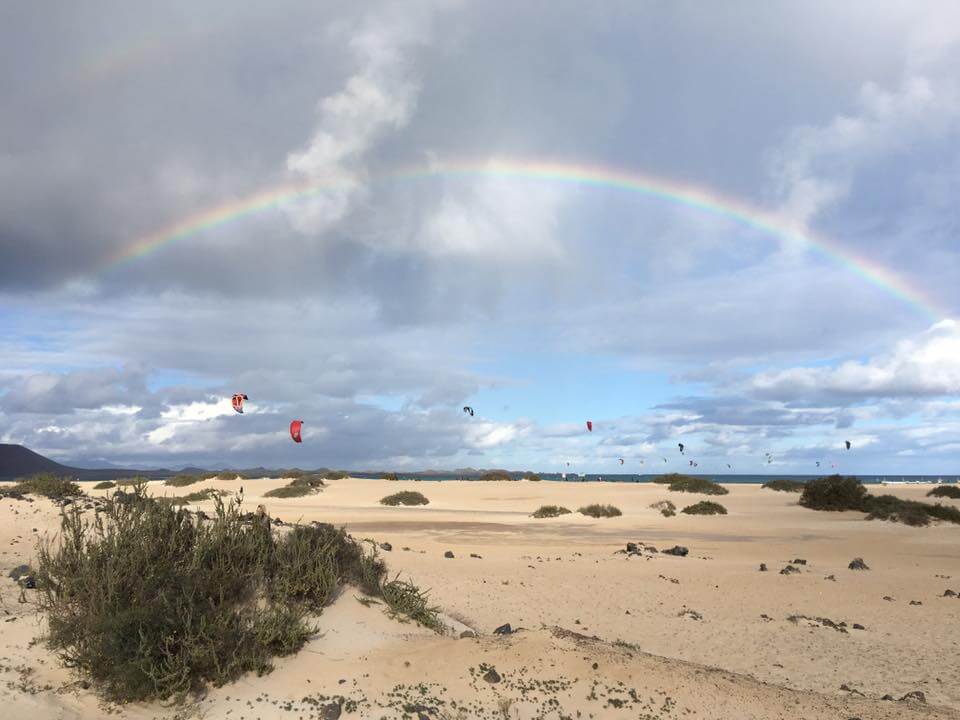 The "Flagbeach" beach is famous for its rocks and is not recommended for beginners. It is recommended to know how to gird well to be able to sail there since if you do not run the risk of having to leave by the rocks. It is important that those who have never sailed there, go only at high tide, that is, it is safer to sail from an hour and a half earlier to an hour and a half after the maximum tide point.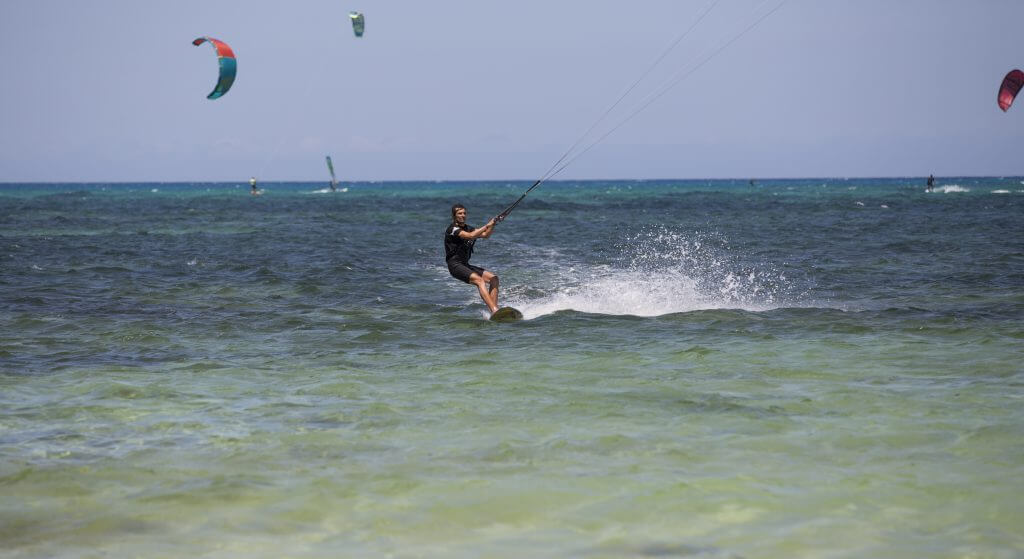 MOST COMMON WINDS.
-North wind(Alisios): It is the prevailing wind in late spring and summer. It is a somewhat earthy but very constant wind. When the tide conditions are good (medium-high) and there is not much swell the spot is perfect for "freestylers". When there is swell, it is a perfect place to learn how to sail in waves, especially at the end of the beach, where it breaks a very good left (although above the rocks).
-Northeast Wind: This wind comes from Lanzarote and due to the Isla de Lobos is a very gusty wind. When you enter strong you can navigate Flagbeach but they are not the best conditions for this spot. In addition this wind makes the sea very choppy and with waves, which make it very uncomfortable to sail. Another place where you can go when you enter this wind is the beach of Cotillo.
-Northwest Wind: It is a wind similar to the North but even more offshore, which is dangerous if the wind is not very strong or if your level is not very good. Usually it brings clouds and with it wind something gusty.
-SouthEast Wind: The SE wind comes side-onshore, bringing wind and a lot of choppy waves. It is like the NE but entering on the other side. It is not a usual wind, but some winter gives the conditions to sail with SE.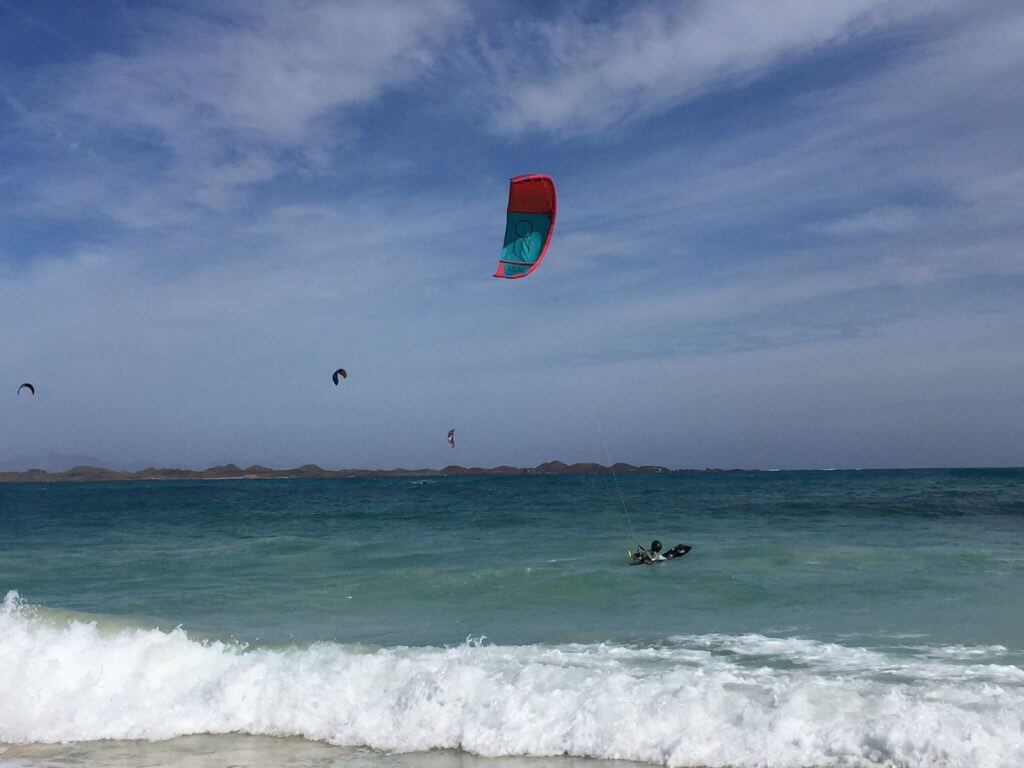 ZONES TO NAVIGATE.
-Flagbeach: Mandatory site. In North Wind is the best and most practicable for this beach. Intermediate Level- Advanced. Perfect for all styles.
-La Entubadera: Advanced level. At the end of Flagbeach Beach, heading south, there is a rock breaking wave, perfect for catching N / NW wind. Impossible at low tide.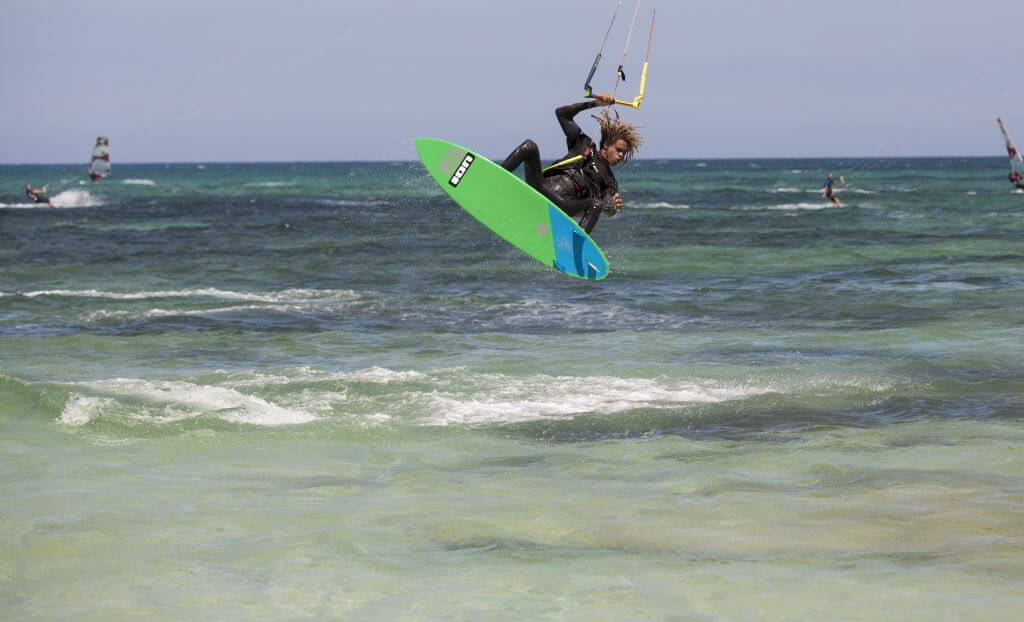 SOTAVENTO
ON THE WATER
Sotavento is Fuerteventura's southernmost kite spot with strong summer wind (and year-round wind) from the left across a wide open, four kilometre-long sandy beach. Every year Sotavento plays host to the GKA Kite-Surf World Cup and the windsurfing PWA World Tours.
There's endless space and short chop on the outside with some flat sections closer to the beach. Head a bit further downwind to where you can sometimes score small but rideable shore-break. On a full spring tide the beach is transformed into a huge, dreamy, shallow lagoon, separated from the open ocean by a sand bar and it's perfect for beginners, early improvers and anybody wanting to work on their flat water tricks. (René Egli centre has the exclusive license to instruct there.)
Sotavento is unbeatable when it comes to on-site facilities. Nestled under palm trees on the edge of the lagoon, René Egli have air compressors, showers, gear storage, beach bar and lifeguards supervising the spot from a watchtower with jet-ski rescue on hand.
This isn't a wave spot, but you can find solid, kiteable surf an hour to the north – particularly in winter – and in the mornings before the wind really pumps it's a great foil spot due to the deep, obstacle-free water.
Close-by, ION Club have two schools in the area, a windsurfing club at Costa Calma and a kitesurfing set-up at Risco del Paso which has perfect learning conditions as well some small waves upwind for those looking to progress on surfboards.
WIND, WEATHER AND WATER
Optimal geographic conditions allow the prevailing north-east trade wind to accelerate between two ridges. In addition to this, the air on the island is heated by the sun and rises upwards, compressing the slightly cooler trade wind as it pushes itself beneath the warm air. When the wind once again reaches the sea at Sotavento, the compression and the wind become free, generating a renewed acceleration. This double acceleration effect makes the wind substantially stronger than in the surrounding area.
80% of the time the wind blows cross-offshore and the best months are from May – September when the Calima winds can sometimes hit up to 40 knots once the midsummer afternoon thermals take hold. The best period for learning is from September to June when the most frequently used kite sizes are eight to 14 metres, but in the summer expect to ride six to ten metre kites most days.
Average monthly air temperatures range from 19°C / 66°F in January to 28°C / 82°F in August. Dropping to 12°C / 54°F at times in winter, you'll need more clothing for the evenings. Water temperatures range from 18°C / 64°F in February to 23°C / 74°F in September, so you can ride in a spring suit all year round and some people wear only a rashie and shorts in mid-summer.
OFF THE WATER
If you're staying at the Meliã hotel by the beach then you won't actually need to leave the premises unless you want to, but in Costa Calma there's the Fuerte Action Café-Bistro bar which is a good daytime / early evening spot. Corralejo is an hour away with busier nightlife. If you're in Sotavento when the world tours roll into town in July, then it goes off every night at La Calpa – a two-week long party tent that runs at the event site close to the hotel (but far enough to be out of ear shot). René Egli offer free use of SUP boards to their guests. There's a lot to do elsewhere from biking, diving and hiking to quad-tours, enduro tours and catamaran sailing. There's excellent surfing on the north shore and the Oasis Park zoo is also close by.
Hire cars are relatively cheap. If you're not staying at the Meliã Fuerteventura hotel (which is right on the spot), then René Egli clients get a free shuttle service to the kite centre from Costa Calma, Esquinzo and Jandia. You can also get a public bus from Costa Calma for around €2 or call a taxi.
AIRPORT:
Puerto del Rosario airport is about 75 kilometres / one hour north. A taxi from the airport to Sotavento costs around €65, or you can rent a car from the airport.
"The wind is very regular here which is why it's so popular and for the last 30 years this spot has been host to kite and windsurfing World Tours."
ACCOMMODATION
HOTEL MELIÃ FUERTEVENTURA is directly at the spot and, along with the INNSiDE at Meliá Fuerteventura, provide excellent 4 star accomodation for all desires – bed-to-board becomes reality! www.melia.commelia.fuerteventura@melia.com
SCHOOLS
RENE EGLI FUERTEVENTURA teach all levels, all year, on the sea or the tidal lagoon with jet-ski back-up. Reserve your lessons before your trip to guarantee a spot and a pre-payment price reduction. Rent or buy the very latest Cabrinha gear. Gear storage and free SUPs are available for all clients.
Languages: English, German, Spanish, Italian, French and Polish. Accredited by: IKO www.rene-egli.com (with live webcam) info@rene-egli.com