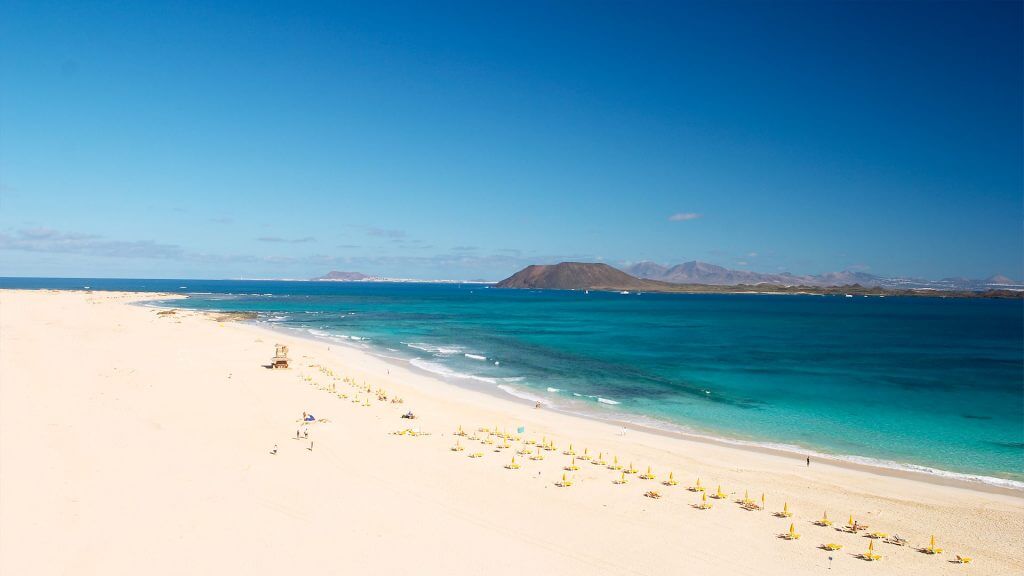 Fuerteventura is one of the Canary Islands and is located in the Atlantic Ocean near North Africa. It is one of the best spots in Europe with an average temperature of more than 20 degrees throughout the year and the best windy months are with the trade winds from May to August.
Corralejo is a small town in the north of Fuerteventura. It is a town with a lot of variety but above all with a great surfing and kiter atmosphere due to the proximity of the spots to enjoy these sports.
The practice of kitesurfing is mainly concentrated around the Grandes Playas, a series of beaches that accompany the Natural Park of the Dunes of Corralejo.
The best known is the Old Man beach, commonly called "Flagbeach" among kiters. A spot for all levels of kitesurfing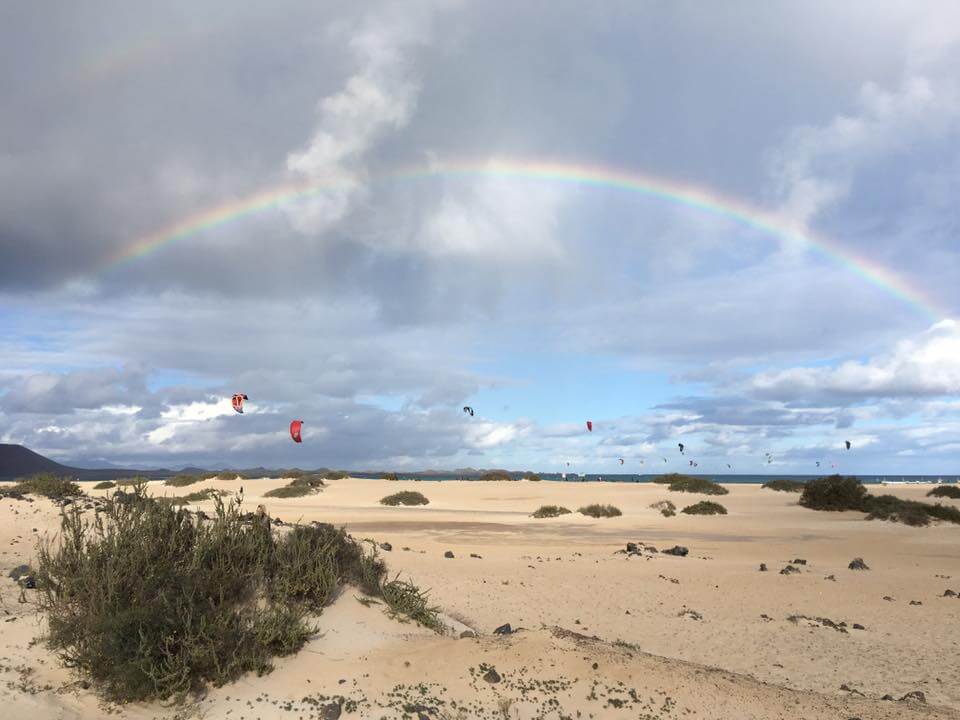 The beach of "Flagbeach" is famous for its rocks and is not recommended for those who are at the beginner level.
It is recommended to know how to adjust well to be able to navigate there since if you do not run the risk of having to go out on the rocks.
It is important that those who have never sailed there, go only at high tide, that is, the safest thing is to navigate from an hour and a half before to an hour and a half after the maximum tide point.
Flag Beach is the best place to learn kitesurfing in Fuerteventura and we recommend the Redshark Fuerteventura kitesurfing school.
To eat in Corralejo we recommend the Avenida Restaurante.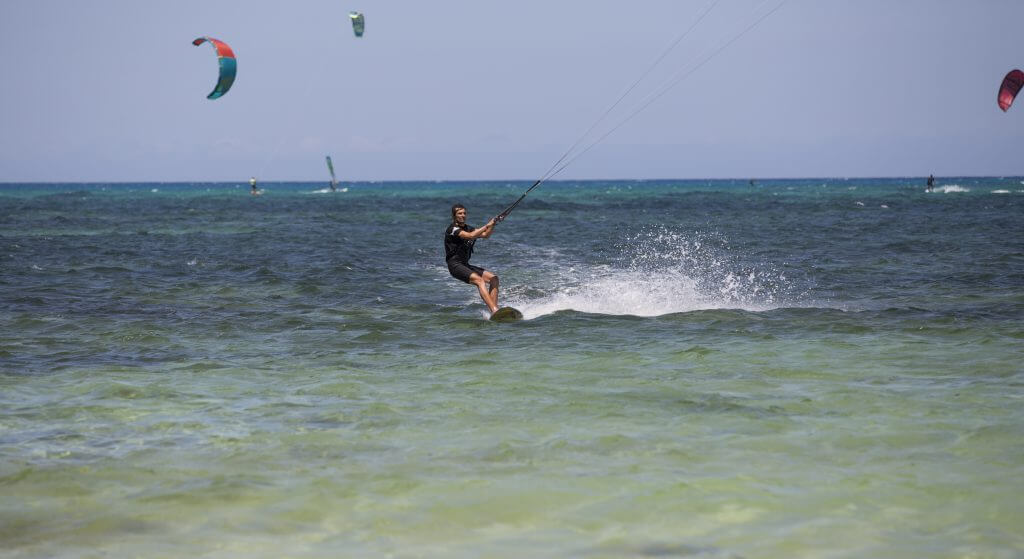 MOST COMMON WINDS.
-North wind(Alisios): It is the prevailing wind in late spring and summer. It is a somewhat earthy but very constant wind. When the tide conditions are good (medium-high) and there is not much swell the spot is perfect for "freestylers". When there is swell, it is a perfect place to learn how to sail in waves, especially at the end of the beach, where it breaks a very good left (although above the rocks).
-Northeast Wind: This wind comes from Lanzarote and due to the Isla de Lobos is a very gusty wind. When you enter strong you can navigate Flagbeach but they are not the best conditions for this spot. In addition this wind makes the sea very choppy and with waves, which make it very uncomfortable to sail. Another place where you can go when you enter this wind is the beach of Cotillo.
-Northwest Wind: It is a wind similar to the North but even more offshore, which is dangerous if the wind is not very strong or if your level is not very good. Usually it brings clouds and with it wind something gusty.
-SouthEast Wind: The SE wind comes side-onshore, bringing wind and a lot of choppy waves. It is like the NE but entering on the other side. It is not a usual wind, but some winter gives the conditions to sail with SE.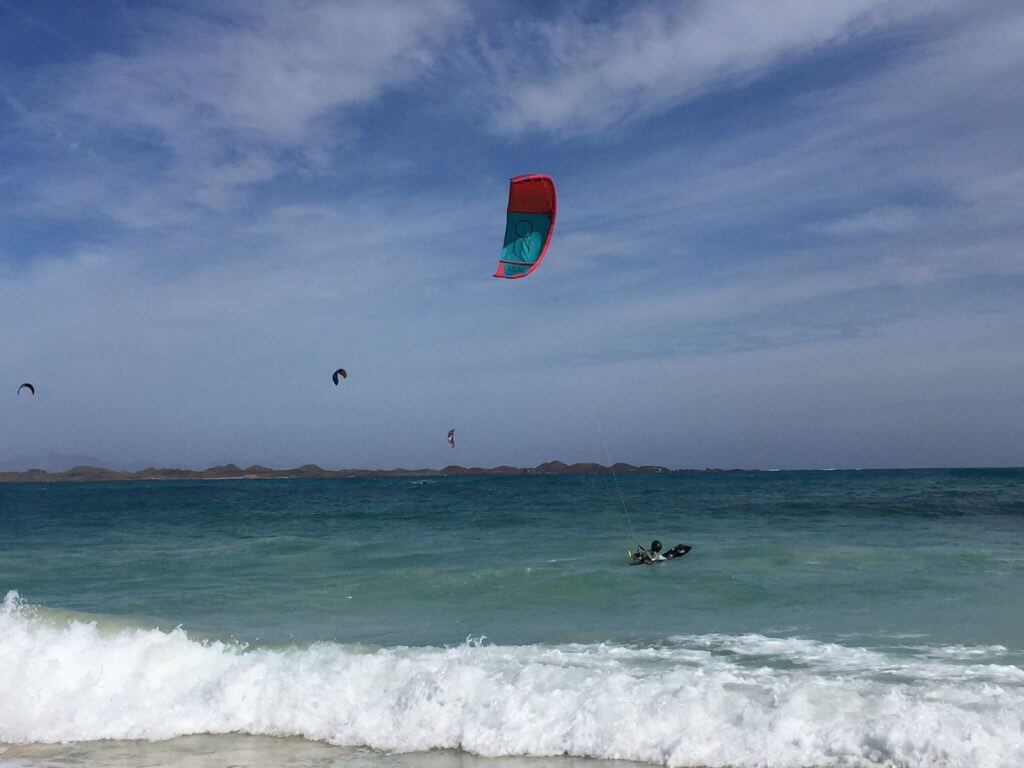 ZONES TO NAVIGATE.
-Flagbeach / Corralejo: It is the best and best known spot in the north of Fuerteventura and it is best to go at high tide as there are many rocks. Very constant wind sideoff on, it is ideal for learning and there is a school with a rescue boat. It is the easiest spot in Fuerteventura. In North wind it is the best and most practicable for this beach. Intermediate-Advanced level. Perfect for all styles. Ideal to go with the family.
– El Burro / Corralejo: It is a wave and flat spot on the inside. The bad thing is that there is a lot of windsurfing. The wind is a bit gusty and somewhat side-off and there is no rescue boat, you have to be careful with this spot and for people with a level. Sandy beach but at low tide there are rocks.
-La Entubadera: Advanced level. At the end of Flagbeach beach, heading south, there is a wave that breaks on rock, perfect for catching waves with N / NW wind. Impossible at low tide.
-Piedra Playa / Cotillo
Good wave spot with N and NE winds. Side-on wind and a little gusty and sometimes an olón forms on the shore where you have to be a little careful. It works at high and low tide and the beach is sandy, although there is some loose rock. This is fine for beginners.
-Spot Sotavento
It is where there is more wind on the island of Fuerteventura. It is a long sandy beach that does not get crowded or 200 kiters because it is so large. With offshore wind, the watchtowers and rescue boats guarantee safety and will always rescue you when you are in trouble and you have to bear in mind that you pay for this service, ask when you arrive at René Egli Fuerteventura Windsurf Center. They also have a school and rental of kitesurfing and windsurfing equipment. The windsurfing and kitesurfing areas are very wide and a small lagoon forms that fills up at high tide to create a perfect area of ​​shallow, flat water ideal for learning to kite or improving your tricks. The offshore wind is quite gusty, especially in summer that can reach up to 40 knots.
It is in the south of the island
Strong and gusty wind
There is not always a gap
Choppy Sea
Rescue boat
Spot with the most probability of wind on the entire island of Fuerteventura
Sotavento and Flagbeach are the best spots to learn kitesurfing in Fuerteventura. In Sotavento we recommend taking the course with the René Egli school. It is a very good spot to learn when the lagoon forms, since it does not cover and is perfect to learn safely.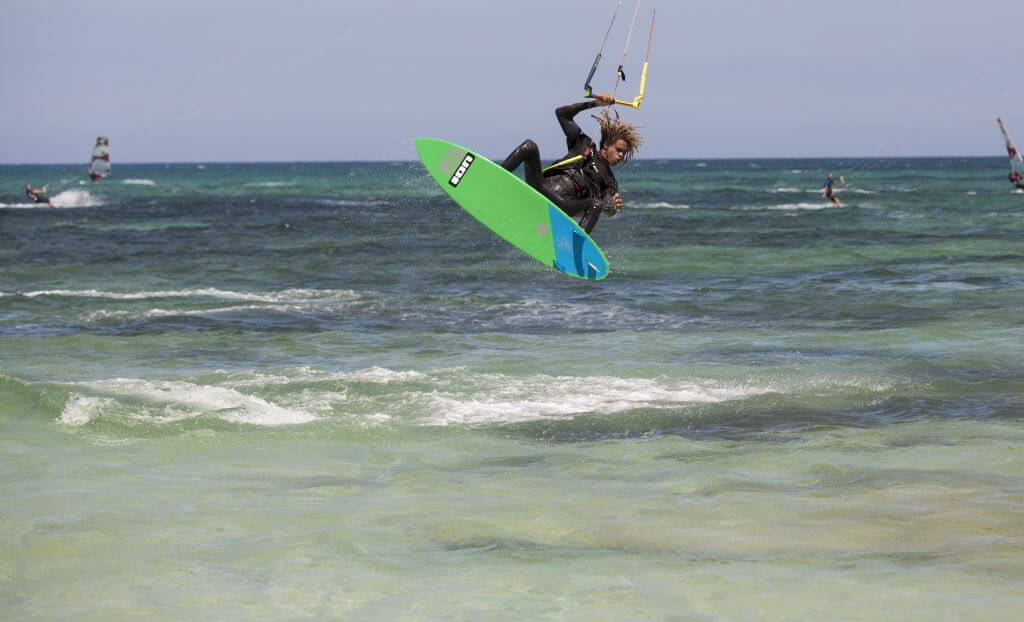 -Spot Matablancas
This spot is just a little bit higher to the north of Sotavento. The wind is gusty offshore but less than Leeward. There is also rescue as in Sotavento but the water is much flatter, super flat.
-Spot La Pared
It is in the south of the island and it is a wave spot with onshore wind. It is not an ideal spot for beginners and better at low tide since at low tide you run out of a beach