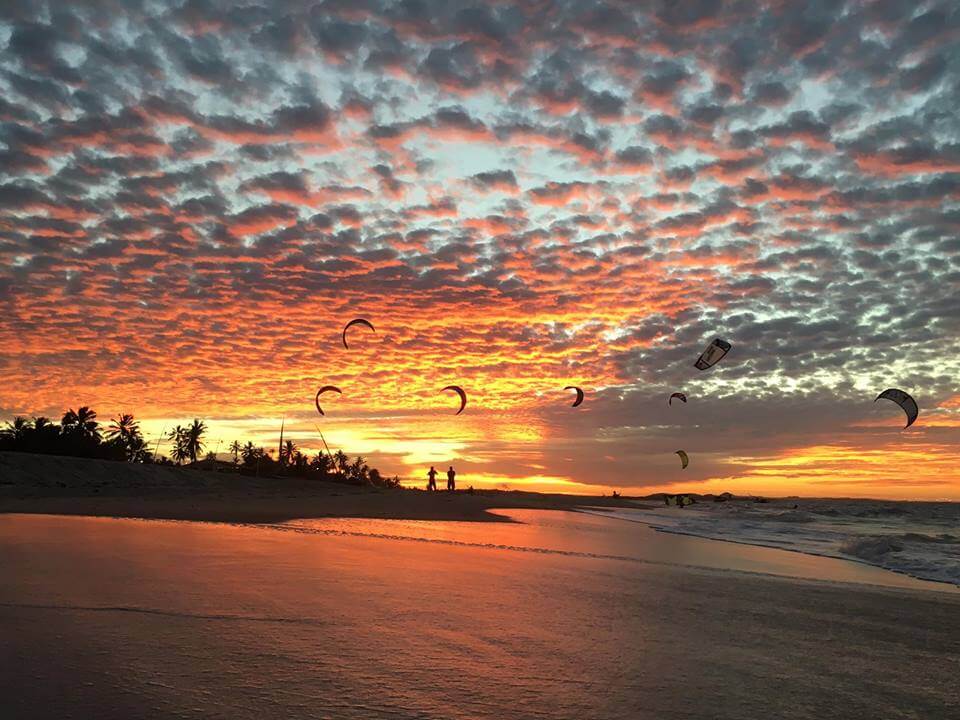 BRAZIL is a country that you can't miss and a Kite trip that you should do at least one time in your life, and for sure you will come back.
The kitesurf conditions are perfect and we are not only talking about the eternal constant wind, but also the tropical weather all the year.
CUMBUCO is internationally recognized as one of the best kitesurfing places in the world (if not the best). It is located in the Northeast of Brazil, just 30 minutes from Fortaleza Airport. It is the home town of the current kiteboarding World Champion of Freestyle, Carlos Mario "Bebe", as well as a mandatory stop for all pro kitesurfers, although Cumbuco is not only this, it is the perfect place for all levels and kitesurfing disciplines, from flat water lagoons to practice your best tricks, incredible wave spots or kilometric crossings along the coast making dreamlike DownWinds. A must for those looking to reach their next level! Here there is only one way, PROGRESS!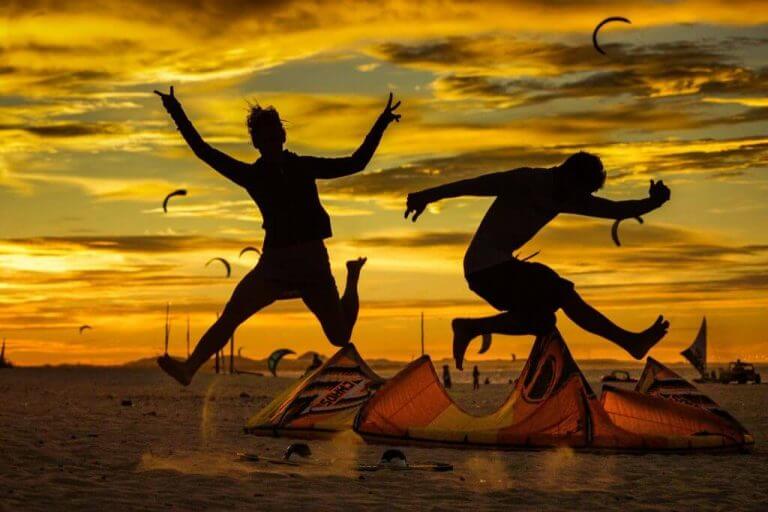 The most stable and friendly wind that exists in the world, in Cumbuco the natural fans are turned on in June and they do not go out until February blowing between 15-25 knots with almost no gusts with a wind average of 18 knots during the whole season. The rest of the year also blows, although not with the same force and frequency, and some rains may appear, so it is called the low season but the reality is that in Cumbuco you will kitesurf the 12 months.
The weather in Cumbuco is tropical and perfect all year, the air temperature is between 28 and 34 degrees and the water between 26 and 28 degrees. So hang your wetsuits on the hanger and come with light clothes because here we like walking in swimsuit and flip-flops everywhere.
KITESURF SPOTS IN CUMBUCO:
You will find lagoons with shallow depth and ideal flat water for those who want to get started in the sport and beginners in search of adding many hours and experience quickly, as well for the advanced ones that look for new Freestyle tricks or improve those already incorporated.
Infinite sea coast and fine sand beach, without rocks, ideal for Downwind crossing waves spots, Brazilian towns and villages, perfect for SurfKite lovers and adventurers.
Within the variety of navigable alternatives, the main ones are:
Shallow lagoons and flat water.
Cauipe
Tabuba
Taiba
Lagoinha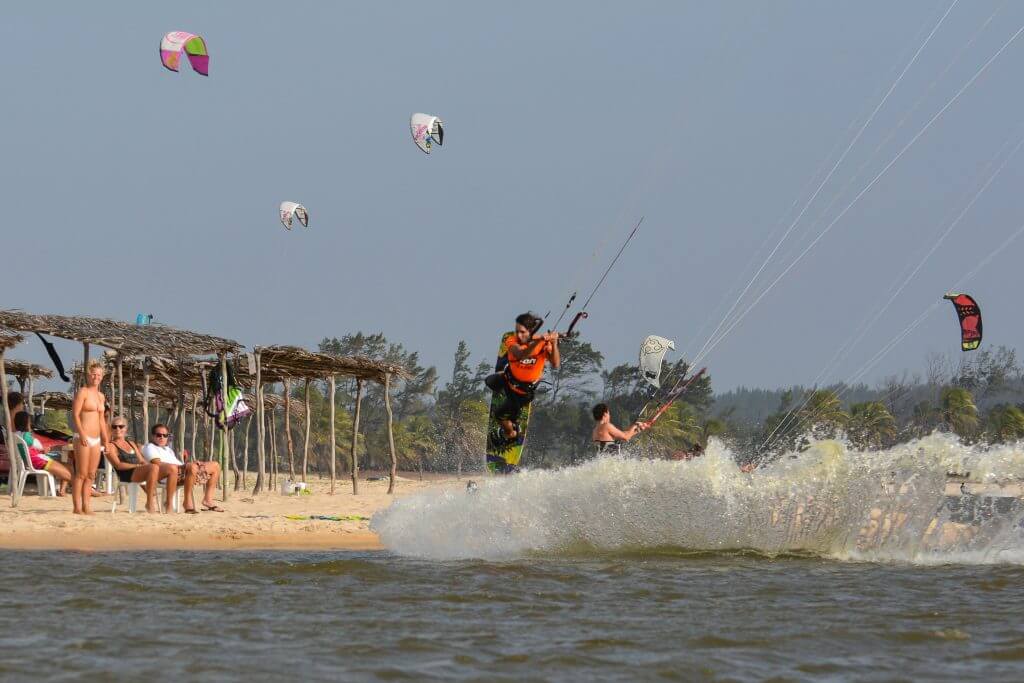 Wave Spot for SurfKite and Surfers.
Wave Secret Spot
Saint Tropez
Pico das Almas
Pecem
Taibinha
Paracurú
Downwind with different distances and for different levels:
Wave Secret Spot to Cumbuco – 21 Km, 2 hours (Advanced)
Tabuba to Cumbuco – 7 Km, 3/4 Hour (Beginner)
Cumbuco to Cauipe – 7 km, 1hour (intermediate)
Cumbuco to Taiba – 22 km, 2 hours (Advanced)
Cumbuco to Paracurú – 42 km, 4 hours (Advanced)
And many others..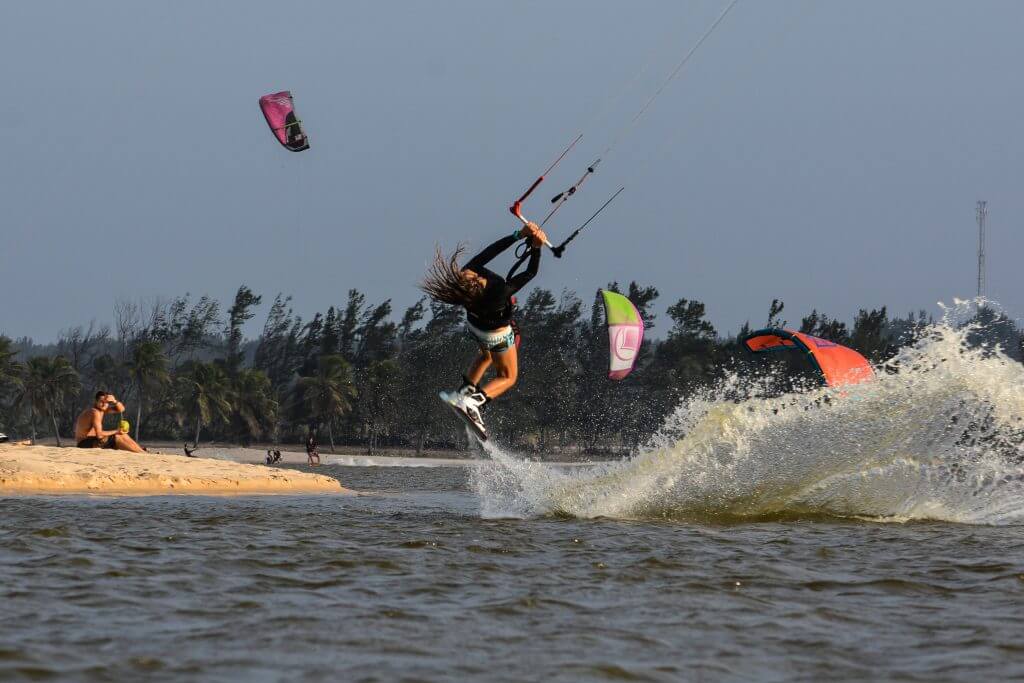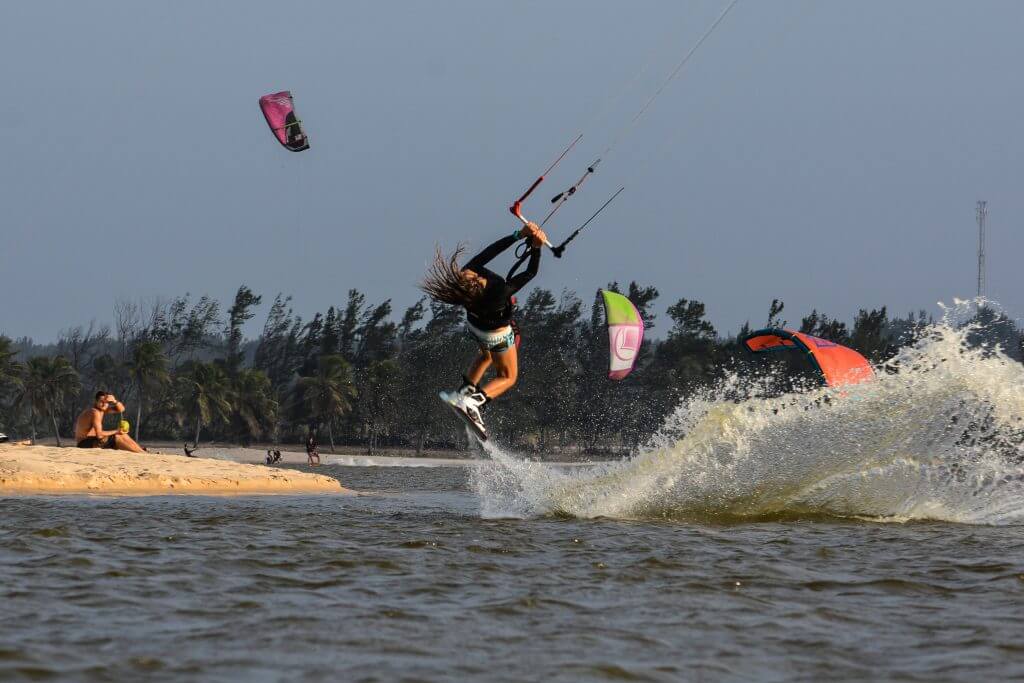 EQUIPMENT RECOMMENDED:
The most used size Kite by a person of 75kg is 9 meters but bring 2 different Kites between 7 to 12 meters would ensure you kitesurfing all day regardless of the variations of wind that may come, everything depends on the weight and experience of the kiter, what is true is that a kite kept in the closet at home, is useless … so bring it and enjoy it!
Live webcam of Cumbuco beach
http://freewaves.live/cumbuco/
More info about Cumbuco
https://www.infocumbuco.com/
Information
Accomodation
Kitesurf School
Restaurant