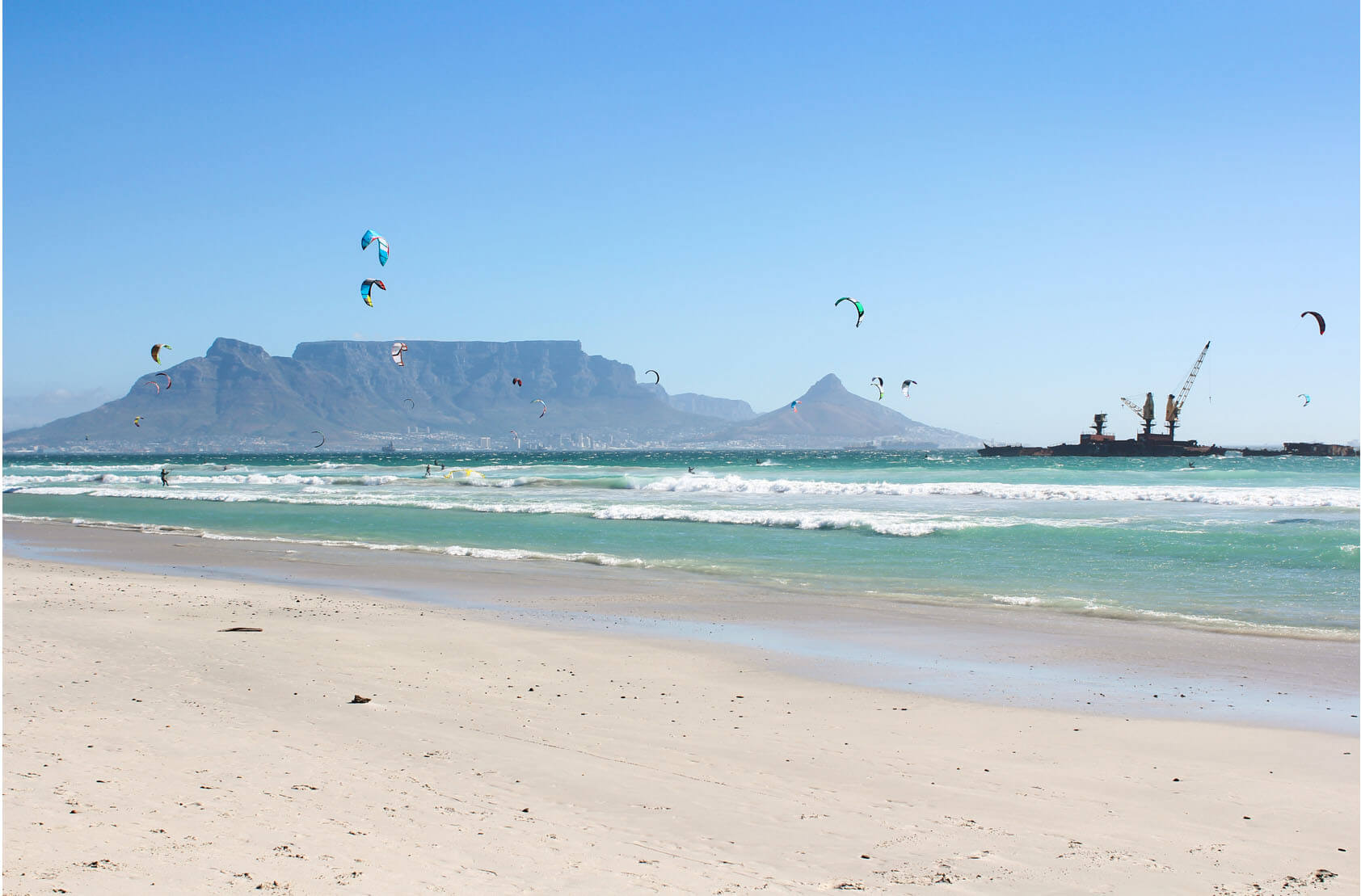 ON THE WATER
Cape Town is the meca of kitesurfing. With more than 30 kite spots ans season from October until April from flat water freestyle conditions to big waves
The main kite spot is Table View in the north of the city where Red Bull King of the Air event
The next spot from Cape Town is Sunset Beach. the wind kick up an hour or more before it reaches to Table View Spot. Here is the KiteWorldWide House
Main Beach, Langebaan
Dolphin Beach spot is a five minute drive north of Sunset and is around 500 metres from Kite Beach, the main spot. Strong and steady wind stronger here and is where all pro King of the Air riders go for training.
Dolphin Beach is a popular ending to a 6 km downwinder from Sunset
It can be very busy the stretch of the beach but the entire beach is kiteable so you can move along to find more space
You can continue your downwinder from Doodles to Big Bay.
Downwind of there you'll find more kite wave spots, Horsetrails and then Derdesteen, which can be really good before the wind gets strong.

Beyond there is Haakgat, the most serious wave around the Table View / Blouberg area which gets big and breaks fast on a small beach. This spot isn't for inexperienced riders. Melkbosstrand is the last beach on this stretch of coastline and it quite often works when all these other spots that we've just mentioned are getting blown out.
There are some serious waves elsewhere around the Cape, such as Scarborough, Misty Cliffs, Cape Point and Witsands.
If it's real flat water that you're after, 90 minutes north is the 'jewel of the west coast', the flat water heaven: Langebaan. This huge, turquoise lagoon locate in a natural beauty of the west coast with plenty of space, white-sand beaches and constant cross-shore winds during the season. This is one of South Africa's top kite spots and it's especially good for learning, twin-tipping and now foiling.
The two main spots in Langebaan are Shark Bay (Kleine Oostewal) and Main Beach. Shark Bay is 300 metres south of Langebaan village and ideal for beginners with a huge expanse of shallow, warm water.
Main Beach is intermediate and advanced riders with cross-shore winds from the left.
A few hours east of Cape Town is The river mouth , another great flat water spot.
WIND, WEATHER AND WATER
Season from October to March (December and January being peak wind season).
The Atlantic water is cold at most spots in and around Cape Town, 14°C with most riders in 3/2,4/3 or even 5/3 full suits. 25 – 35°C air temperature.
Cape Town international airport (CPT) is 40 minutes from Table View.
More info about kitesurfing trips in https://www.kiteworldmag.com/travel-home/