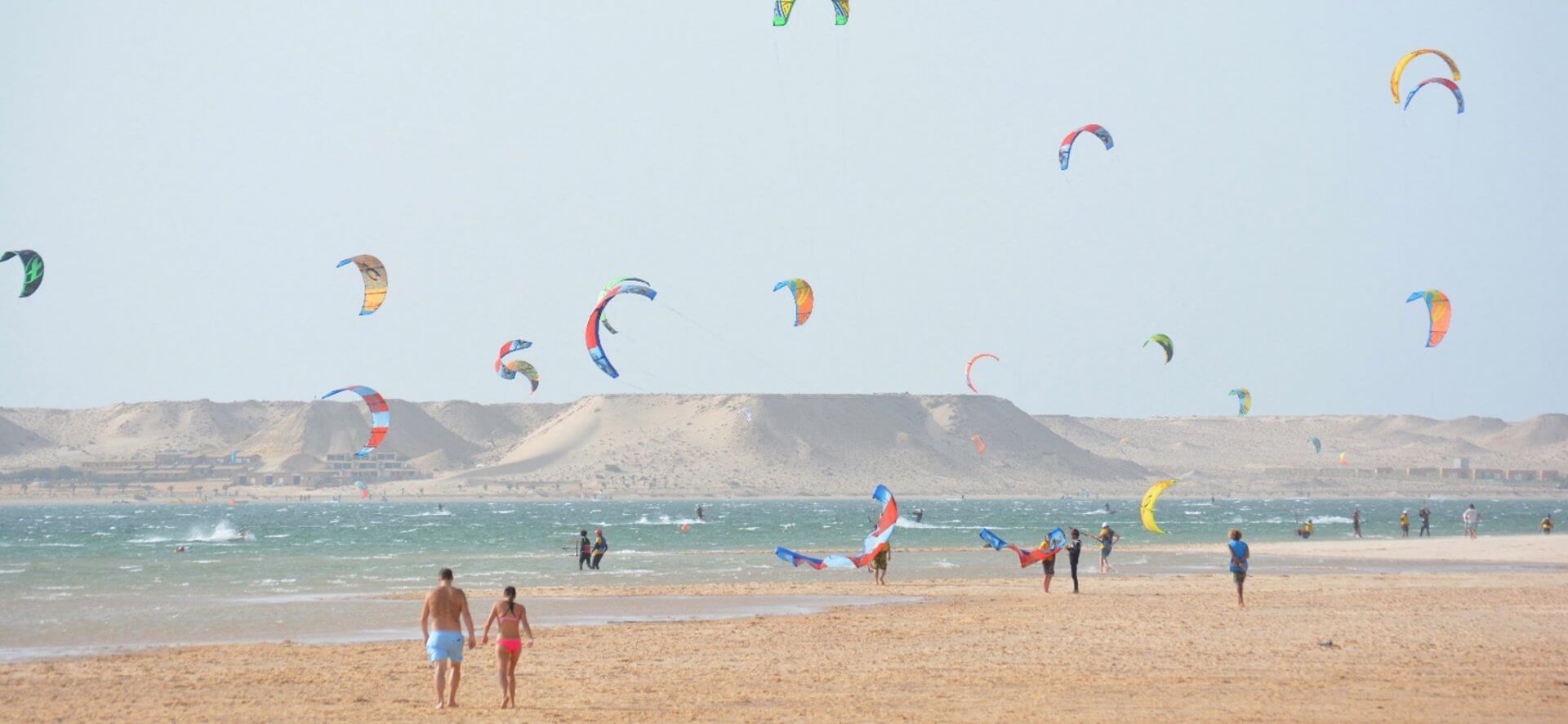 Dakhla is one of the best kitesurfing spots in the world. Famous for its 45 kilometre-long peninsula, clean and strong wind, a huge lagoon and waves just a short drive away on the coast. It can offers all you need.
Dakhla is also famous because kitesurfing World tour events are , pro riders on training trips and weekend warriors alike all flock to the seemingly endless lagoon which can be ridden at both high and low tide. The spot itself is a lagoon – around 40 kilometres long and four kilometres wide in places – formed by the Dakhla peninsula, which extends into the Atlantic. Close to the bank, the water is flat which makes for an ideal spot for beginners, who can remain waist deep up to 300 metres off the beach. If space is what you're after, you'll find it in Dakhla – without any shore-break to disrupt your first board starts and early rides. The only thing to mention is that it is advisable for beginners to wear booties as there are shells on the lagoon's floor.
For advanced riders the 'speed spot' has a way of injecting hysteria into anyone that goes there. This is the dead-flat spot that you see in all the videos, away from where the competitions usually run. You can reach it in a few minutes, but you should go with a guide as the wind is offshore over the sand bar that appears at low tide.
For boosting, a small wind wave forms in the centre of the lagoon which is perfect for topping up your Woo record. If that doesn't come to fruition, there's always the ever-popular sand dune take-off spot. We don't condone it, but, say you were wanting to float from a sandy dune all the way back down to earth – La Duna Blanca is where you do it.
To put it simply, this entire area is an epic flat water playground and you can either kite out front of your kite camp, go on a downwinder to Dragon Island or charge the speed strip at the northern end of the lagoon. Check in with the camp you're staying at or your kite school for an awesome downwinder from the White Dune back to camp.
Progression head back for foil-specifc camps each year to make use of the dependable wind in the deeper regions of the lagoon, which are plentiful. If you're looking for somewhere to go for a week and really focus on your foiling, then Dakhla is a good choice.
Dakhla isn't all about the lagoon. Across the peninsula there are a couple of really solid wave spots with right handers and wind from the right, making for some classic down-the-line conditions. Oum Lamboiur regularly sets the stage for the GKA Kite-Surf World Tour with a textbook point-break when it's firing properly. Even when it isn't at its best, there's almost always some shred-able shore-break close to the beach.
Further down the coast there's Lassarga, which is less well known but still really good with clean, peeling rights. There's also a spot closer to the lagoon called Point de l'Or which is about ten minutes in a 4×4, depending on which camp you stay at. It translates to 'The golden point' and features a point break that wraps around a small cliff with a wave breaking for up to 400 metres.
In general the spots are very quiet, but the only thing to be aware of are the rocks at the start of the point at low tides. Oum Lambouir is the most used spot with easier access, but is further away from most camps than Point de L'Or, which is just five minutes, but requires a 4×4 to access it. The best wave riding is in the winter months when there's more swell, but there's usually at least some surf all year. You'll need a 3/2 wetsuit during the summer season and perhaps a 4/3 in the colder months.
WIND, WEATHER AND WATER
Dakhla offers a long season with rideable conditions for much of the year. The statisticians reckon there is around 320 days of wind every year, so you're in safe hands. April to September are the windiest months and in July and August it peaks with regular 30 knot days. In winter through to early spring, conditions back off to 19-25 knots, but Dakhla can still surprise you with proper blowouts at any time of year.
The wind's usually lighter in the mornings before ramping up and peaking in the early afternoon and then drops off a little before sunset. In summer, you'll use your seven and nine metres a lot and in winter a 12 will see more action. The best waves can be found from November to February. Annual air temperatures range from 20 – 30°C / 68 – 86°F during the day to 12 – 15°C / 54 – 60°F at night. On the lagoon, boardshorts and bikinis in mid-summer will suffice and a shorty will do for most of the year, but bring a warm sweatshirt and jeans for the evenings. The water averages 19 – 24°C / 66 – 75°F all year but strong winds make it feel colder and January and February are the coldest months when you'll need a long suit, whether you're on the lagoon or the coast.
OFF THE WATER
Should you suffer a windless day, there's surfing and wave SUPing over on the coast. SUPing on the lagoons is also popular. If you're looking for a kite-focused trip, chilled vibes and the option to just relax and recharge when you're off the water then a trip to Dakhla is a solid call.
Most of the accommodation is right on the kite spot at various corners of the kite lagoon, with everything you might need on tap. Incidentally however, ION Club have two centres in Dakhla, one at the top of the lagoon and another in Lassarga, on the coast, right in front of a right hand point break! In recent years there has been a big push among the hotels to cater for non-kiting guests, with city tours and visits to various tourist attractions. The ancient mosque is well worth a visit – built by the Spanish, it still stands today as a monument to ancient architecture. Otherwise you could stroll along the seafront in Dakhla. There are loads of incredible local restaurants and the Moroccan cuisine can take you on a culinary adventure that only this kind of exotic cuisine can do. Food options range from camel kebab (!) right through to the freshest fruit juices. Visit the small souk in town and the local markets selling herbs, spices, nuts and olives. Look out for the cars selling seasonal fruits and try the Dakhla-grown cherry tomatoes. Enjoying a traditional tea in a cafe is a must-do, and lunch at the oyster farm is also highly recommended (even if you don't like oysters, as there is plenty more on the menu). Between the camps and town you'll hopefully find a little semi-hidden fish restaurant on the water's edge that serves seafood, fish and fresh oysters. There are pizza options in town as well as a more upmarket dinner at Villa Dakhla.
If it's peace and quiet you're after, especially after a day of battling the winds, Planet Kitesurf offer a hotel that few agents know of. It is set a bit further down the beach in a quieter secluded spot: La Tour D'Eole – known for being secluded and eco-friendly.
Most people stay at the kite camps and they can arrange your transfers, so you won't need a hire car. Staying at the camps usually includes rescue boat cover too and the daily routine is very mellow. Many of the camps have social gatherings from time to time as well as live music in the evenings and yoga sessions during the day. Hotel Dakhla Club have a growing reputation for their dinner parties that usually escalate into late night dancing. You'll also find day beds as well as shaded areas to relax in.
As a growing hub for sports, Dakhla itself is more recently developed than the traditional Moroccan towns further north. You'll find there are cafes, markets, some shops and a museum that details the cultural history of the area and the nomadic bedouin people who once inhabited it. For any twitchers, there are interesting wildlife roaming around, including large flocks of flamingos, migratory birds and, of course, the camels.
GOOD FOR: Ultra-reliable conditions, reeling rights and a vast lagoon to explore
AIRPORT
Fly into Dakhla (VIL). You can fly direct from Paris once a week or you'll connect through Casablanca or Agadir with flights available everyday.