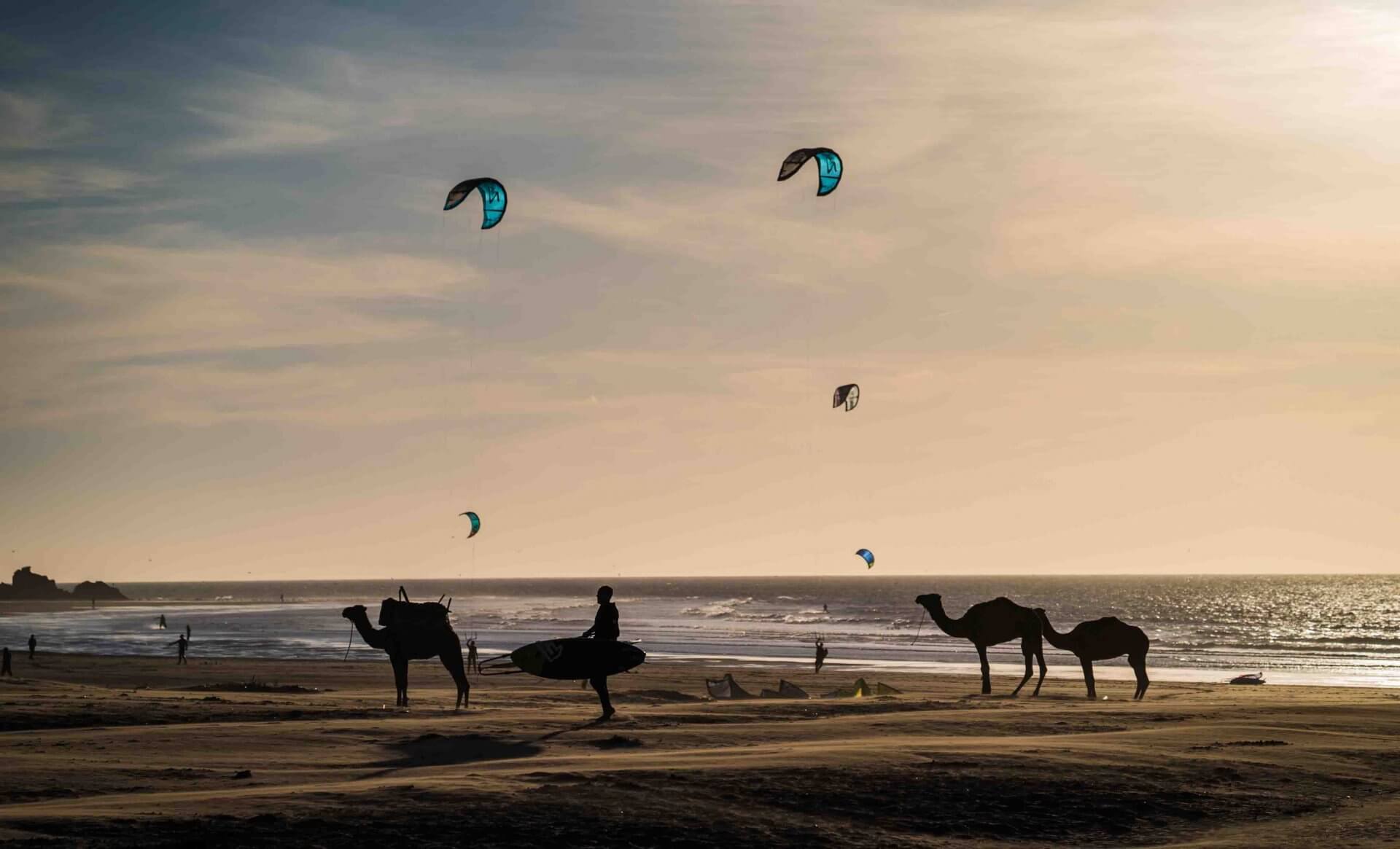 ON THE WATER
Essaouira was the original Moroccan hotspot with windsurfers heading there for decades before the first kiters arrived. Known as the Windy City with consistent cross-shore winds, there's dependable cross-onshore wave riding from March to September, but also conditions for all levels of rider. The wind is steadier to the left of the bay away from the town with some fun waves the further along you go. Closer to town the water's flatter (but the wind is gustier) and there's standard bump and jump conditions in the middle of the bay. Essaouira doesn't get insanely choppy thanks to the Mogador Islands that protect it from larger swells. In winter and late season you can ride flat water in the Oued Ksob river mouth just south of Essaouira and in summer there's sometimes flat water at Second Beach.
This stretch of coastline is very popular with surfers as it's loaded with nearby wave spots. Advanced wave riders will love Moulay Bouzerktoun and Sidi Kaouki, which you can also kite down to on one of the weekly downwinders organised by Explora Watersports. There are more spots to the south around Taghazout, too.
WIND, WEATHER AND WATER
Essaouira is windy from March until September when the cold 15 – 25 knot north / northeasterly trade winds blow in from the Atlantic before ramping up as they collide with the land's warm air. In July and August the wind can hit 40 knots and in recent years it's been windy on 100% of days in July! Water temperatures stay at a comfortable 17 – 20°C / 63 – 68°F while the air temperatures are very warm when you're out of the wind.
It's worth bringing at least a spring suit as the wind can cool you down. In early / late season a thicker suit is necessary (but it's worth it for the winter swells!). The wind is a little less consistent in winter and often blows from the south, but it's still good around 60% of the time.
OFF THE WATER
Essaouira isn't a resort town. It's a compact, culturally rich city where tourism and traditional Moroccan life meet. The harbour is busy with the local fishermen and there's also a bustling medina with shops, stalls and restaurants. You can stay in an authentic riad inside the medina or find hotels, guest houses and apartments outside of it. Explora Watersports have several properties to choose from.
There's a great selection of restaurants in the old town serving traditional dishes and you can find more international fare around town as well. Food is generally very affordable and if you're self catering then there are supermarkets too. Strictly speaking, Morocco is an alcohol-free country but, as in many of its tourist hubs, Essaouira's restaurants serve alcohol and there are also bars and a couple of clubs. You can now also buy beer, wine and spirits at the new Carrefour market except on Fridays.
Beach bars and cafes dot the main beach and there are plenty of activities, such as SUP and surfing to mountain biking, quad biking, camel and horse riding and more. You can also test out your haggling skills at the many shops and stalls in the medina.
GOOD FOR: A unique cultural experience just a few hours from Europe with varied riding and reliable conditions
AIRPORT
There are regular flights to Essaouira from France and Brussels. Marrakesh (RAK) airport is the more common direct flight option and is a two hour drive / taxi away. Agadir (AGA) is a little further. Most kite schools or accommodation agents can organise a transfer for you.
ACCOMMODATION
EXPLORA have four riads, three of which are in the medina, with stylish double rooms starting at €50 euros per night with breakfast included. They can also arrange family-sized rooms and larger suites. Kite, surf and SUP tuition / rental packages also available. www.explorawatersports.com