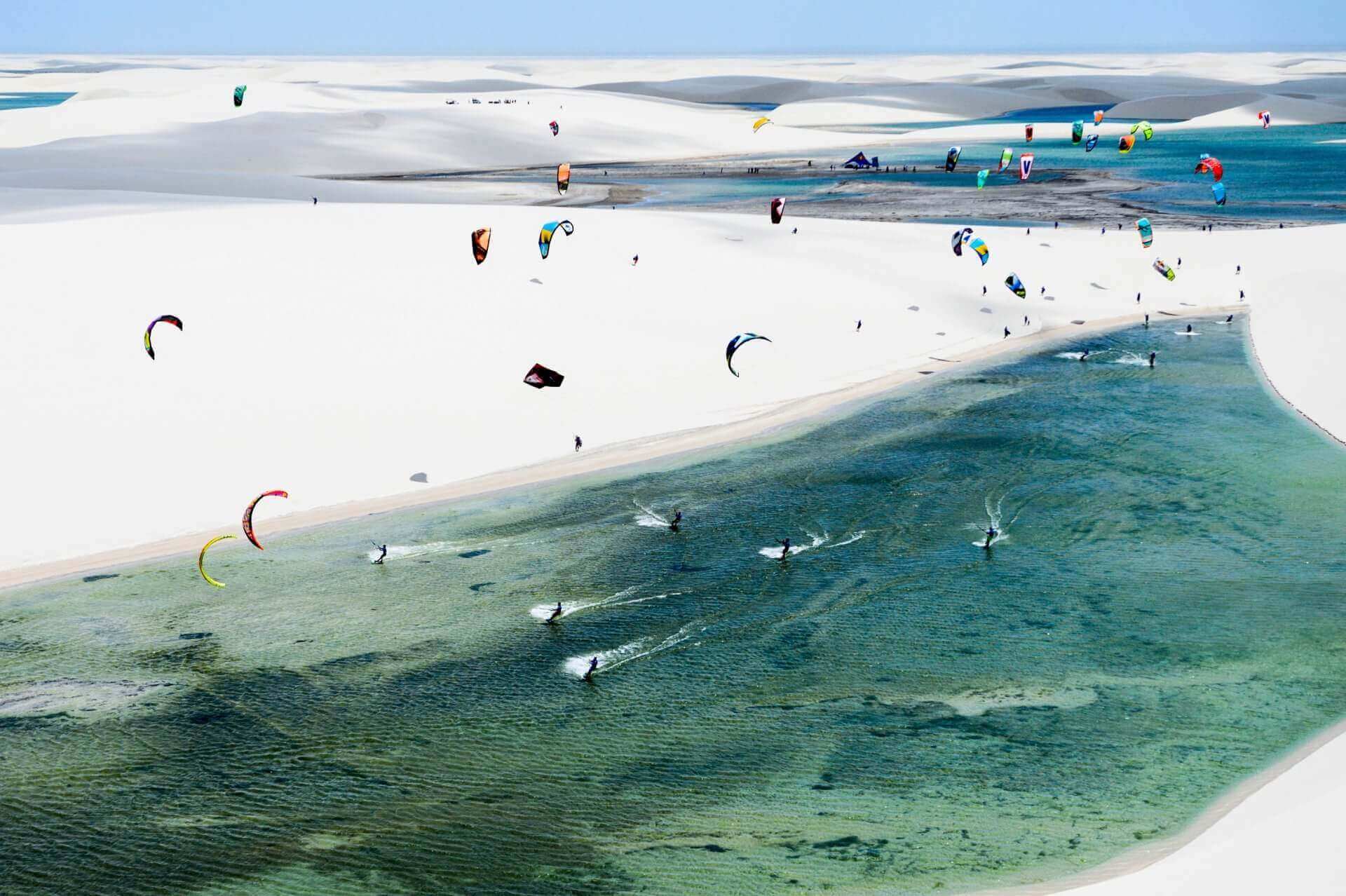 ON THE WATER
The further north you go in the state of Ceara the windier it gets. In Jeri, close to the border with the neighbouring state of Piauí, it blows hard from June through to February. A 330 kilometre drive from Fortaleza, Jeri is one of Brazil's best established kite spots due to the relentlessly regular conditions during the season. You'll find 25 kilometres of beach to explore and conditions to suit all riders with safe, secluded lagoons for freestylers and beginners, kickers on the open ocean and wave spots, too.
Jeri's also a prime start / finish point for downwinders and there are some great ones you can do with close-by Prea to Jeri a favourite at sunset (finishing up with a caipirinha, of course!). Heading away from Jeri, you can kite along to Guriu or further still to Tatajuba, which are both awesome kite spots themselves and a beach buggy can bring you back to Jeri.
If you're after waves then you can score at Prea, Malhada and Mangue Seco on a northerly swell with a full / new moon, while on a low tide you can find some surf in the river mouth at Guriu as well as some flat sections. Be prepared to hire a buggy / buggy driver as the beach going downwind from Jeri is ridable for miles and the wind gets better and better!
WIND, WEATHER AND WATER
Tearing it up!
The main windy season begins in July, but kicks in properly in August, running through until November with wind on 95% of days. It's often windy by 7am and regularly ramps up to 30+ knots of cross-onshore wind from the right in the afternoons (it blows cross-off directly in front of Jeri town and becomes more cross-shore further along the beach). The wind carries on through to January and February and, although it's not as strong during that time, it's still very consistent.
Water temperatures average 20 – 25ºC / 68 – 78°F, so nothing more than a rashie and strong sunscreen (factor 40 – 50) are needed. It's cooler in the evenings, so bring a light jumper.
OFF THE WATER
Jeri's a popular kite destination, so is busy and really fun during the high season but retains a relaxed, fishing village vibe and is nestled away in the dunes. There's a wide range of accommodation, from hotels to pousadas, from chic and luxurious to rustic and simple. There are also kite shops, supermarkets, bars, cafes and restaurants. Although there's no cash machine, you can use cards in many establishments or exchange money in town should you need to.
It's rarely windless during Jeri's main season months, but if it is you can check out the adjoining national park and its 'Pedra Furada' – the symbol of Jericoacoara – an imposing rock on the seashore with a large hole in the middle. There's also horse riding, a gym, capoeira classes, SUPing or surfing at Malhada beach and main beach.
Most of Jeri's streets are sand-covered, so cars can't get down them but everything is within walking distance so that's not a problem (and keeps the town more pedestrianised!).
AIRPORT
Pinto Martins, Fortaleza (FOR) is 330 kilometres from Jeri. You can get a bus or a driver (R$500 each way). Kitestrophik and any of the agents can organise transfers. If you're renting your own car that isn't 4×4 you can leave it just outside of town – as it's all sand in the town area.
GOOD FOR: Pumping wind, epic downwinders and buzzing nightlife ■