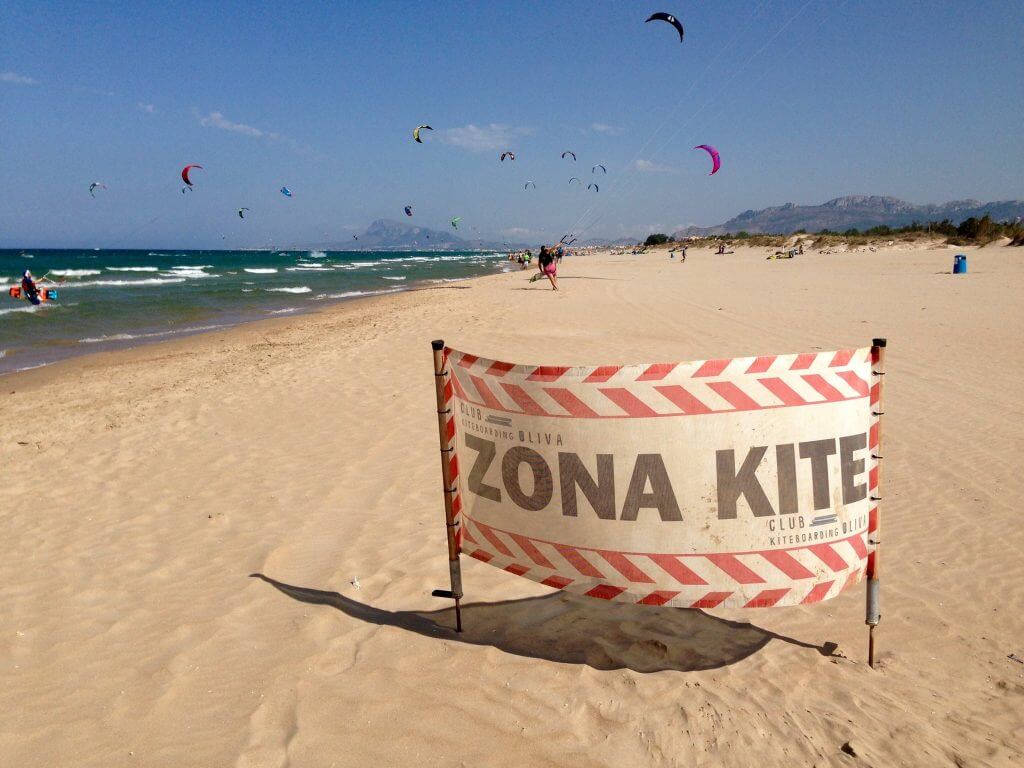 In Oliva you can kite all year long but the best season is spring summer with thermal winds since the afternoon. From November to March there are terrales winds and its better to kite in the "Punta Molins" spot in Denia, which is about 10 minutes south of Oliva.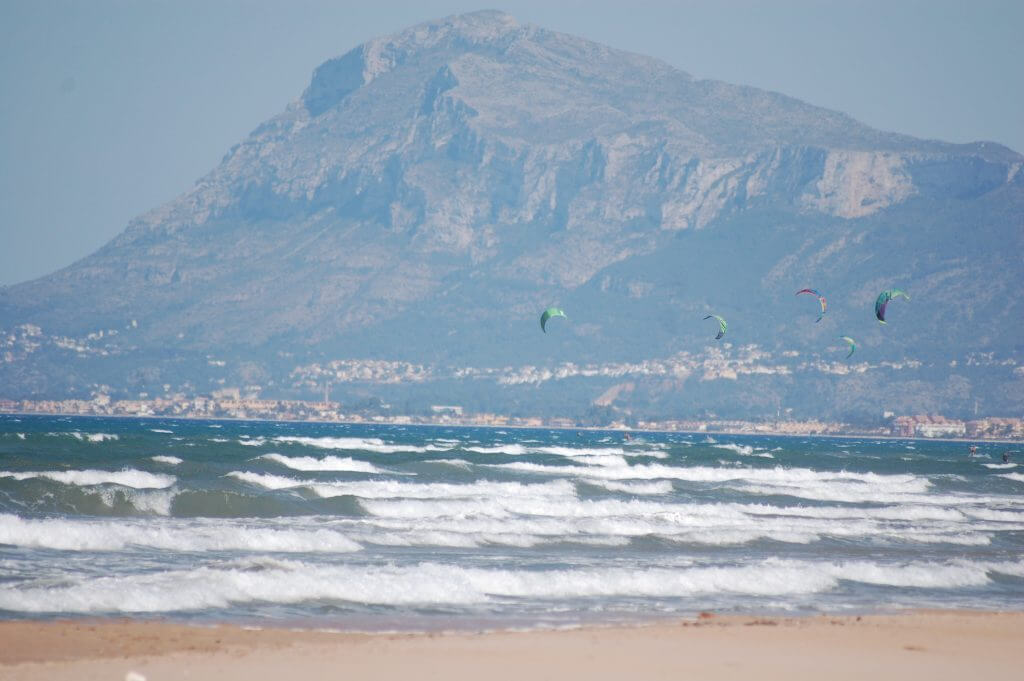 Oliva and Denia are fantastic spot.
Prevailing wind is from E to SE being the ideal one ESE, which stars from 14 / 15 hrs pm until the sunset. Starting in April / May and ending in mid-September. It usually blows with a strength of 16/18 knots but some afternoons it can reach more than 20 knots. It has all the services: Campings, Apartments, Hotels, School and Kite Shop … the store and school of the area is F-one Proshopcenter
Oliva Kitesurf spot will surprise you, long beaches with very white and thing sand!
This long beach is an ideal place to kite thanks to its consistent thermal winds during the spring and summer season.
There is plenty of room to lift kites, and even with strong thermals you will have the perfect waves form, half a meter, perfect for strapless kite, surfing and jumping.
Conditions aside, it is well worth the visit to this spot of kitesurf called Oliva for its landscape of dunes and clear waters. During the summer season, it is forbidden to kite outside the authorized zones in Oliva.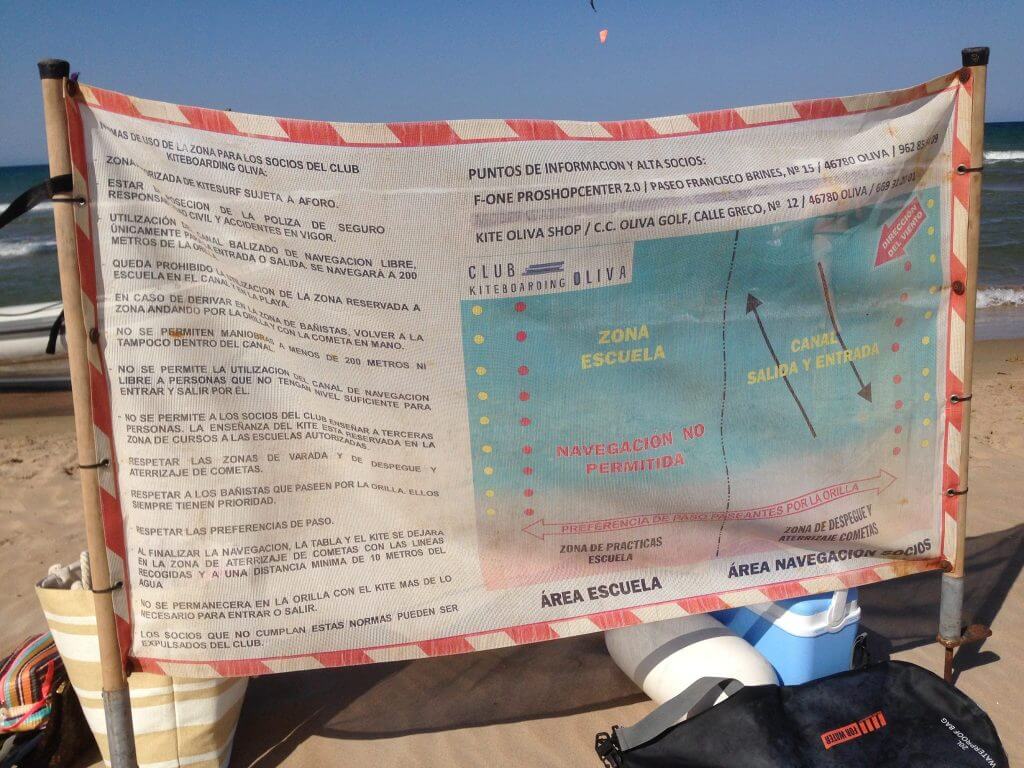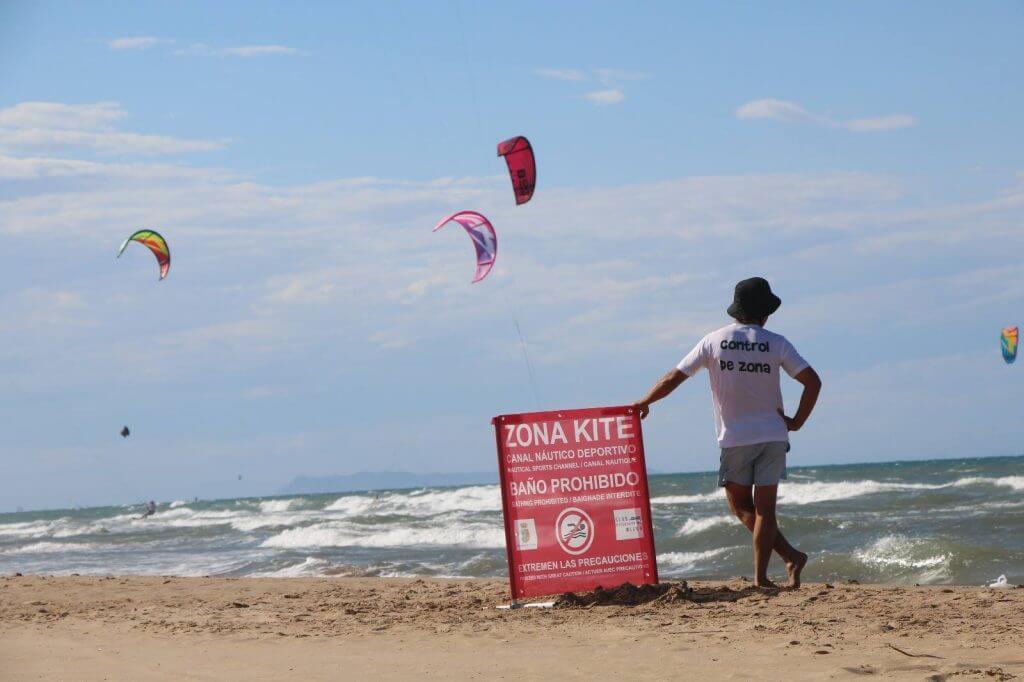 The main beach for practicing kitesurf in summer is the area around ​​the club with a rescue boat and a zone controller that will assure a safe practice.
This is the main Club Kiteboarding Oliva area:
Between these two places you will find the two areas for kitesurfing, the Club Kiteboarding Oliva and the main one.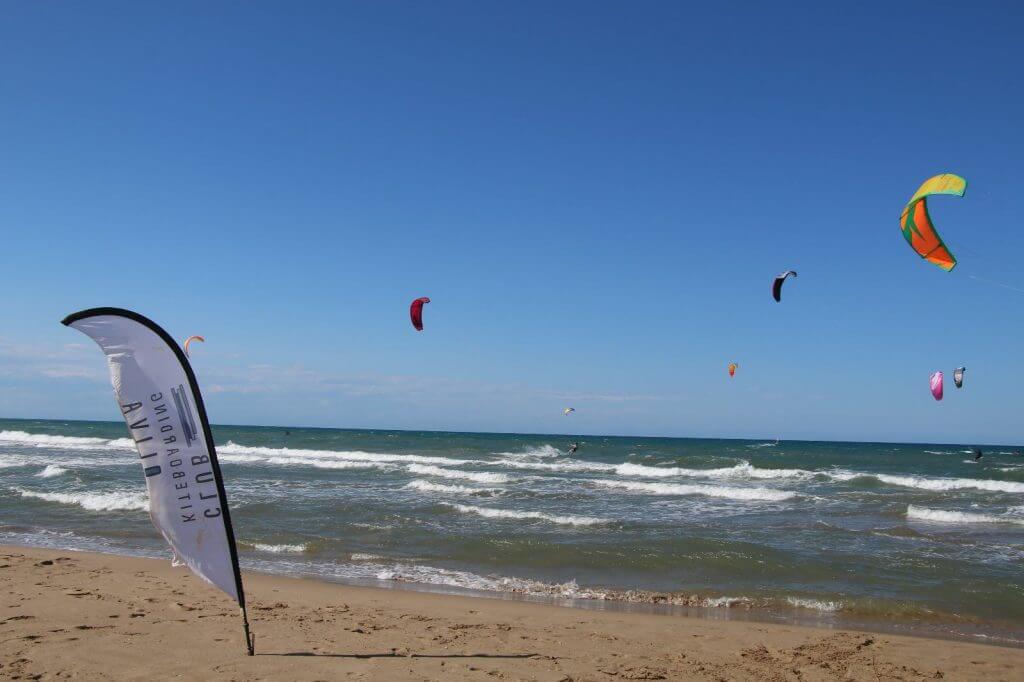 Oliva's Kite surf spot main features:
Flat and choppy water spot (freeride, freestyle and strapless)
Sandy beach without rocks
Optimal wind range: from east to south
Parking nearby
Mainly visited by kiters and possible to do kite during the summer season

AREAS FOR KITESURFING:
In the Oliva area there are several spots for practicing kitesurfing, which depending on the conditions or time of the year you can kite in one place or another. The beaches far better in Oliva during spring, when there are no prohibitions, are Cruz Roja and playa Oliva nova.
Summer spot: Playa Oliva Nova
Without a doubt, one of the best spots of the area for kitesurfing.
A beach that makes you feel you are in a nature reserve for its beauty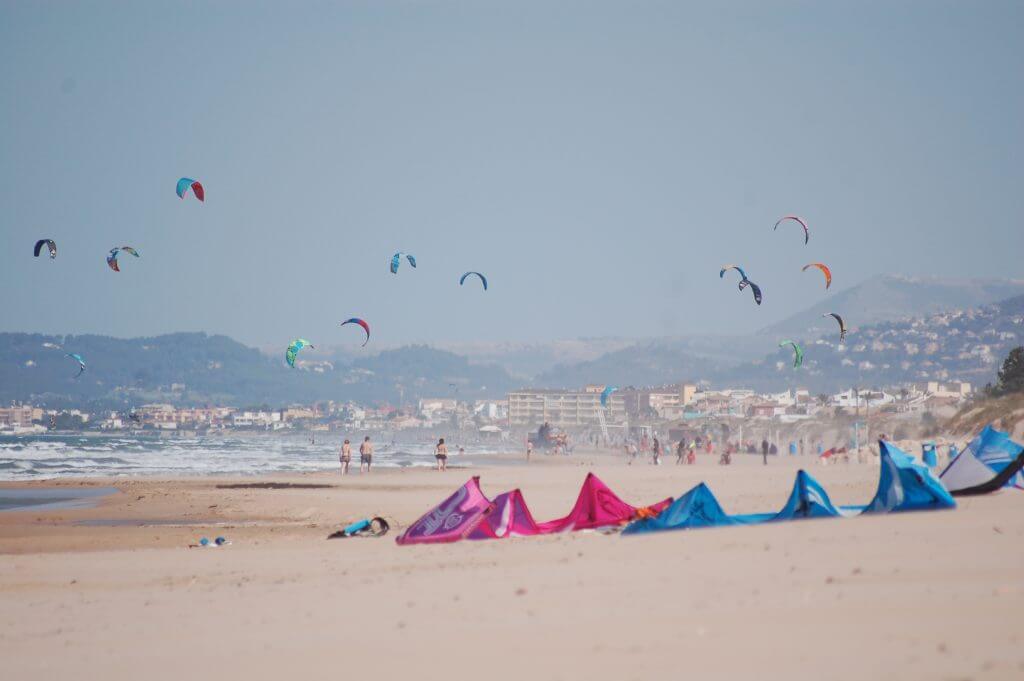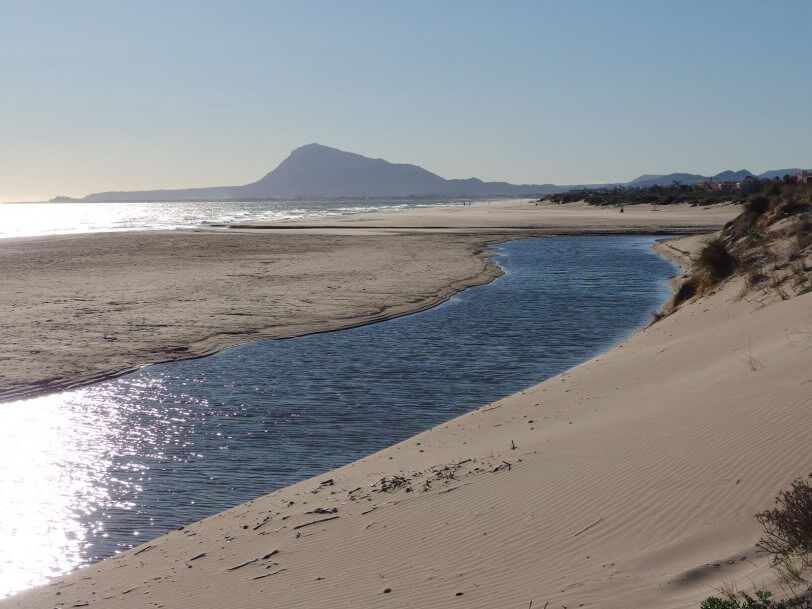 It is a very long beach, kilometers long, with a protected area with natural dunes.
In this spot you can kite in summer with wind of East, South and Southeast.
Platja Molins Denia, Zona Nova Denia.
This spot is located on the Las Marinas road. It is perfect to kite in winter with the terrales, with winds of West, Northwest and its beach located towards the north, make of this spot one of the best ones for the winter season, perfect in times with knots of 25 until 40 knots.
In summer, it is forbidden to kite in this spot from the 1st of July until the 31st of August. In spring and summer, when it is not prohibited, the best wind is Northeast. It is the only beach of the Valencian community that looks towards the north and that is why you can navigate W / NW / N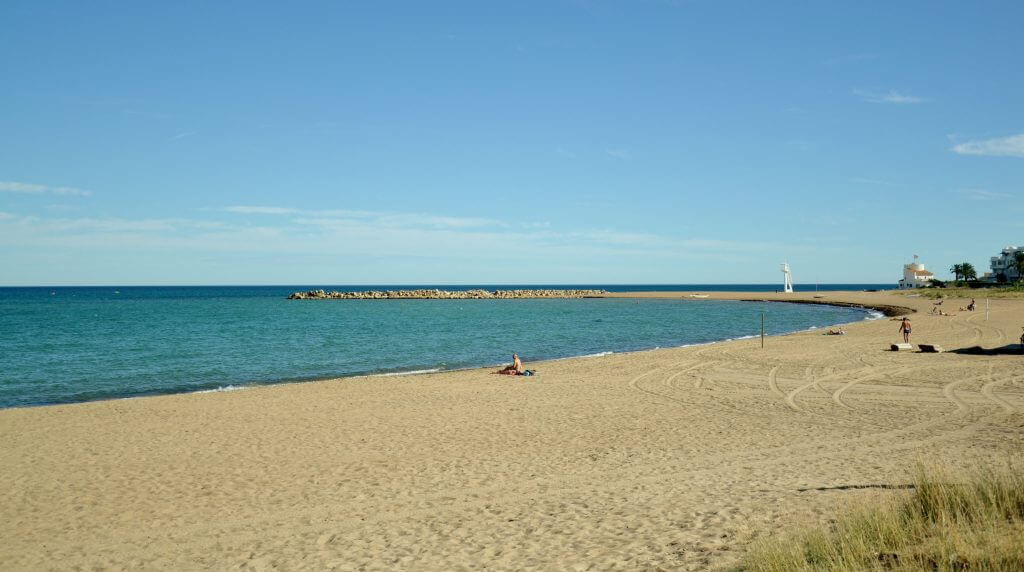 Videos made in the Oliva Kitesurf spot: