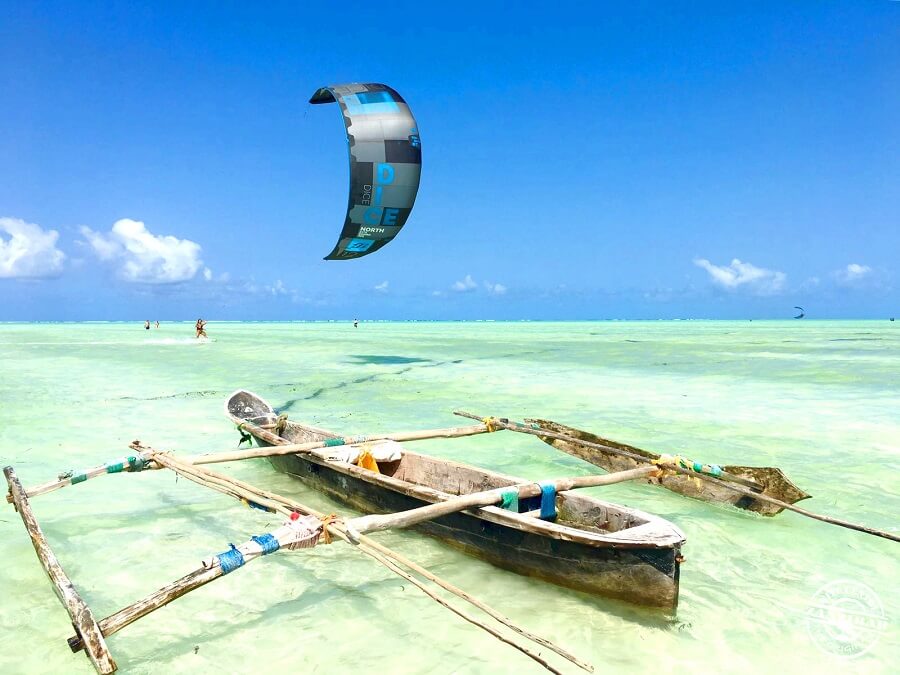 ON THE WATER
On the southeast coast, Paje is by far the most famous and popular kiting spot on the island, yet just over ten years ago was merely a small fishing village. Paje has certainly blossomed into kiting heaven, but retains its authenticity away from the tourist areas in the north, keeping the vibes chilled for the kiting crew.
This area is still for the adventurer, with the northern half of the island being more built up, catering for the mainstream holidaymaker, which tends to suit kitesurfers just fine. Offering a more remote and cosy feel with a long, isolated beach, littered with smaller guesthouses and a variety of resorts, rather than big, busy hotels, this spot is also easily accessible with Zanzibar's main international airport just an hour away.
Paje's conditions attract kiters from all over the world, and you can count up to 150 riders out in an afternoon in the main peak seasons, though it never feels crowded because the lagoons extend for two kilometres and the best kiting area stretches along the beach for the same distance. If you're prepared to venture a little way up or downwind, you'll find all the space you could wish for.
Paje is unique in that you can kite at all states of tide, but the conditions change with the tides; each tidal state offering something special, so you're probably going to have to stay two weeks to experience the range of conditions!
Wave action out on the reef!
Paje Beach is the main kitesurfing spot on the south coast where an offshore reef creates flat conditions on the huge lagoons at low tide, with growing chop as the tide rises and the water spills over the reef. At high tide you'll find nice kickers closer to shore and during a neap tide there's flat water all day. For six days every month the inner lagoon doesn't even empty. The lagoons are as incredible for freestyle as they are for beginners, being soft and sandy underfoot.
If you're looking for waves you'll find an endless supply out on the reef that runs the length of the coast, from waist to over-head high for long downwinders and wave play. Locals are still managing to explore new sections, so you'll definitely be kept amused on your holiday.
The downwinders here are rated really highly and wherever you stop you'll pretty much be able to find a taxi to bring you back. The waves vary in size and break in both directions, so there's something for all levels, whether you're hoping to head out on your first downwinder, or improve your surfboard skills. Just don't go alone and get some local advice from one of the schools first.
WIND, WEATHER AND WATER
Zanzibar is best January to February and June to August, but it's generally good from mid-December to March and from June to September. Winds blow left to right in the winter season and switch during the summer season. Expect cross-on conditions around beachfront, Paje, 12 – 20 knots between December and March and 14 – 25 knots cross-on from the north between June and September. Average air temperatures are around 30°C / 86°F while the water averages 27°C / 80°F. On long days and downwinders wear a shorty.
OFF THE WATER
Paje is a small village with hotels and guest houses, ranging from three to five star and all accommodation is pretty much right on the spot. Kite Centre Zanzibar is right on the beach, next to the Mr Kahawa lofts, which offer boutique living experiences right on the beach. They're also the Mr Kahawa coffee shop, serving everything from espressos and lattes to a wide selection of seasonal food products that are made daily in their kitchen. Foodies will be at home here with toasted sourdough bread baked everyday which you can enjoy with freshly prepared dips and spreads.
If the wind doesn't blow there's no reason to fret! Zanzibar is a spice island rich in history and heritage and has a constantly improving tourist infrastructure. Take a cultural / historical tour and visit the colourful markets of Stone Town or, if you're looking for something more adventurous, then swim with dolphins or go diving, SUPing, surfing, fishing or take a boat safari.
Nightlife isn't too raucous in Paje but there are lovely restaurants as well as local set ups with beach boys cooking your food over a beach fire. You can survive on as little as $15 a day at local restaurants. Hotel restaurants are more expensive, though.
Getting around is easy as taxis are cheap and plentiful, but a scooter is good for a day's sight seeing. The main town of Stone Town is an hour from Paje and, although crime is low, use common sense. This is a Muslim country so discretion is advised and you should be sure to cover your shoulders and legs respectfully when in town.
GOOD FOR: Totally tropical waters and stunning white sand, with flat water, twin-tip, foiling and wave riding options
AIRPORT
Zanzibar international airport (ZNZ Kisuani) is an hour from Paje in Stone Town. Alternatively, fly to Dar es Salaam (DAR) on the mainland and get the 20 – 30 minute ferry to Zanzibar.