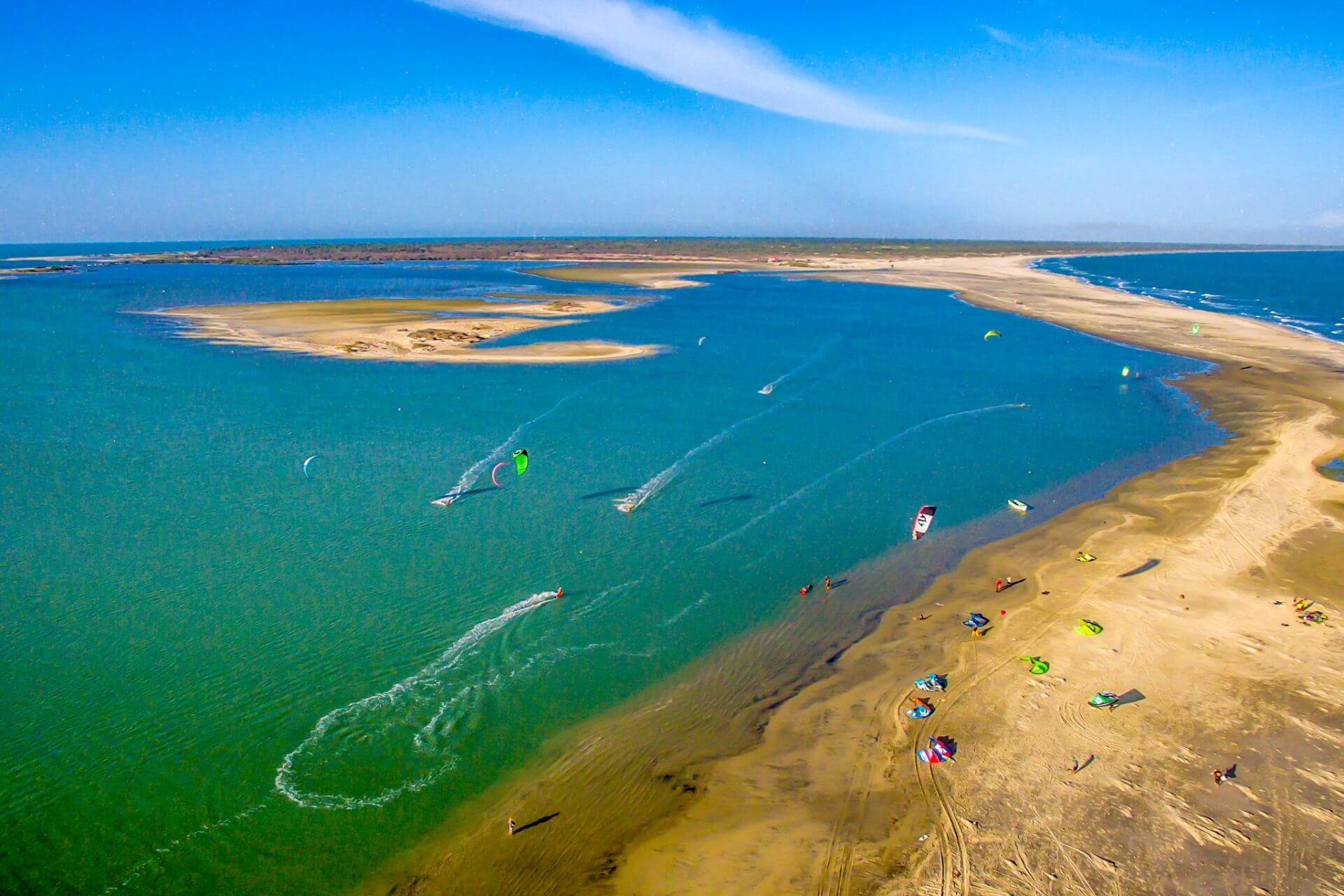 Kalpitiya in Sri Lanka is considered one of the best kitesurfing spots in the world for many people
ABOUT THE WATER
Kalpitiya has steadily increased in popularity, developing a strong reputation among kiters around the world thanks to its huge lagoons, incredible downwinders and two reliable windy seasons. Flat water used to be the main attraction around Kalpitiya, however a new spot has arised in popularity, Donkey Point, which has become far more accessible now that there's a beach hut with rental gear and a safety boat, offering onshore wave riding across the sandbar. Kitesurfing Lanka provide free safety boat cover at Donkey Point.

'Big Lagoon' is the Kalpitya Lagoon. Sits just outside Kalpitiya town and is the most popular kite spot in the area. Its best moment is during the dry season between November and early April, the northeasterly trade winds blow through and this period is very popular with beginners and freestylers alike. The hairdryer-like winds turn the warm, chest-deep lagoon into a natural cable park!
Flat water steeze
Kappaladay Lagoon is another lagoon close by however bit smaller. The good thing is that turns on in the southwesterly winds that blow from May until early October. Both lagoons are enclosed and protected from the open ocean and there are rescue boats operating (not that you would use them as the wind is onshore). The lagoons are free of rocks or obstacles and, also most people don't bother with wetsuit boots. in case you can find occasional sharp shell lurking in the shallows.
Experienced riders often consider a trip up to Vella Island to camp overnight. Vella is an uninhabited island, only reachable by 4×4 and then boat, but Kitesurfing Lanka run regular trips to Vella and also organise twice weekly overnight camping trips during the summer. They camp there before riding downwind, all the way back to Kalpitiya through crowd-free lagoons. Camping in Vella is without a doubt a really unique experience with phosphorescence glowing in the water at night and a true feeling of disconnectedness from normal life.
Lastly for the really adventurous, Kitesurfing Lanka also offer a 200 kilometre downwind trip from Mannar back to Kalpitiya with an overnight stay in the Wilipatu National Park. You'll be accompanied by a safety boat with food, water and spare gear if you need to change kites along the way.
WEATHER: WIND AND WATER
There are two annual seasons: the summer that runs from May until October and is the strongest of the two, breezes of 25 knots or more five/six days a week, and the the winter season begins in mid-December and finishes in early April.
During summer, the conditions work perfectly all day long, so you'll be blessed with lots of regular session time!
The winter season is less reliable and lighter, but with a 12 metre kite you will ne able to get plenty of sessions on the water. Also, when is really light then there's the option of foiling on the open water or potentially in the lagoons with a short mast.
Weather-wise, Kalpitiya is extremely humid with air temperatures around 30°C / 86°F and water temperatures around 26°C / 79°F during the year. It is very importnat to bring sun cream to protect your sking as the sun is very strong in this part of the world.
OUTSIDE THE WATER
Kitesurfing Lanka also run weekly parties in the beach, with DJs and live music. The social atmosphere is great, because even without bars or nightclubs in the area, Kitesurf Lanka organizes BBQs and gatherings. Also they offer lodgings that suits all tastes and wallets, with beachside bungalows, deluxe tents, a family-sized four room villa apartment and even a catamaran!
Red Coral Resort is a good alternative. Located on the south tip of Kalpitiya lagoon, beside the never-ending palm-tree line of the majestic Indian ocean beach. For non-kiters, the resort will fit the bill: read a book, snooze on cozy couches, play board games in the shade or enjoy a drink out on the verandah. Also, the chef is ready to cook a meal for you at any time!
Apart from these you sholud also check out the other guest lodges, like KiteWorldWide's, which a beautiful terrace overlooking the lagoon.
The food is amazing, local dishes and plenty more international options will complete your options. If you prefer, you can also find local offering in town too, but be warned: Sri Lankan people like their food very spicy! There are some shops in town as well as an ATM and pharmacy.
Unlikely but if it's not windy during your stay then there's SUP / kayak rental in Kalpitiya, as well as surf or surf foil over at Donkey Point. There's even better surf elsewhere in Sri Lanka, which is fast becoming a really popular country for the sport, so if you're going to be around for a while and want to travel then check out some of the many surf camps and schools that operate in the country.
You can also go whale and dolphin watching, visit the lost city of Anuradhapura, which is a UNESCO heritage site. In addition to this you could see elephants, leopards and other endangered wildlife in their natural habitat at the Willpatu National Park.
GREAT FOR: A very laid back cultural experience with large expanses of warm, flat water
AIRPORT
Kalpitiya is a two-and-a-half hour drive from Colombo (CMB) airport. Transfers can be organised by your school or tour operator at around €55 for the vehicle.
Kalpitiya is in the North-West of Sri Lanka, with lots of small sand islands formed by sandbars and protected by the reef, flat water lagoons perfect for kitesurfing. It is perfect for downwinds and camping on the islands.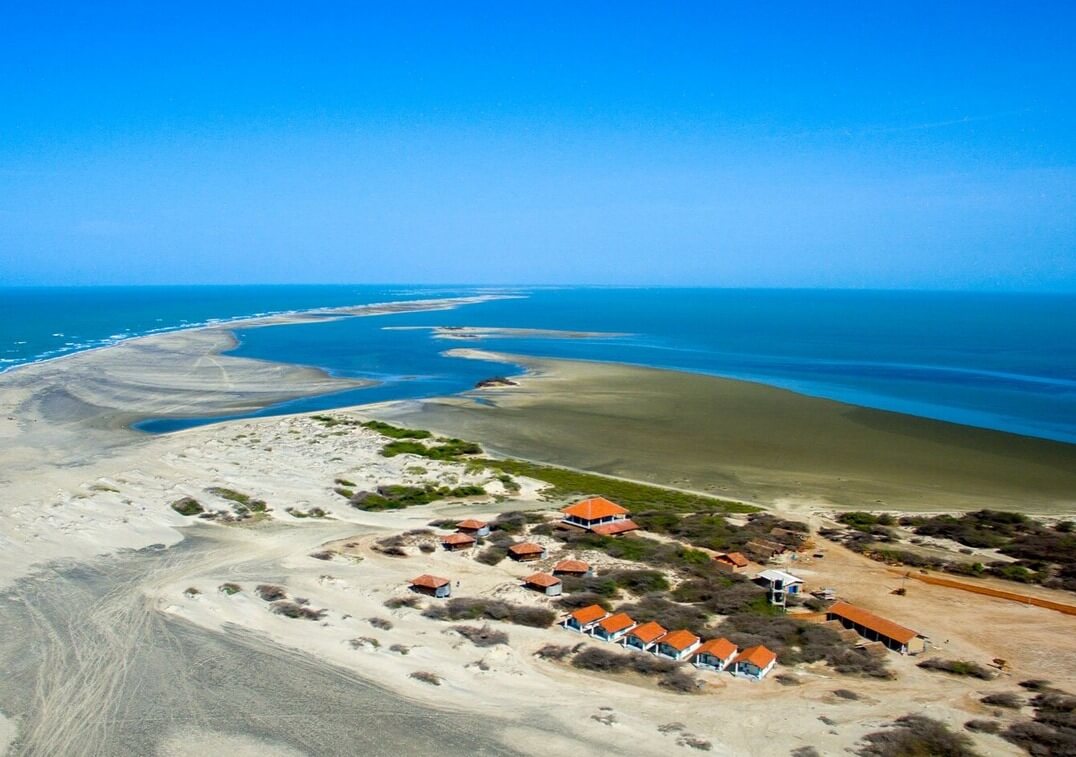 SUMARY:
Wind in Kalpitiya: constant average of 20-30 knots.
Best months for kitesurfing: May to September. From December to March there is wind in the afternoon of 15 to 20 knots. Good to spot dolphins.
Water and air temperature is between 26 and 28 degrees, ideal for sailing in a swimsuit without neoprene.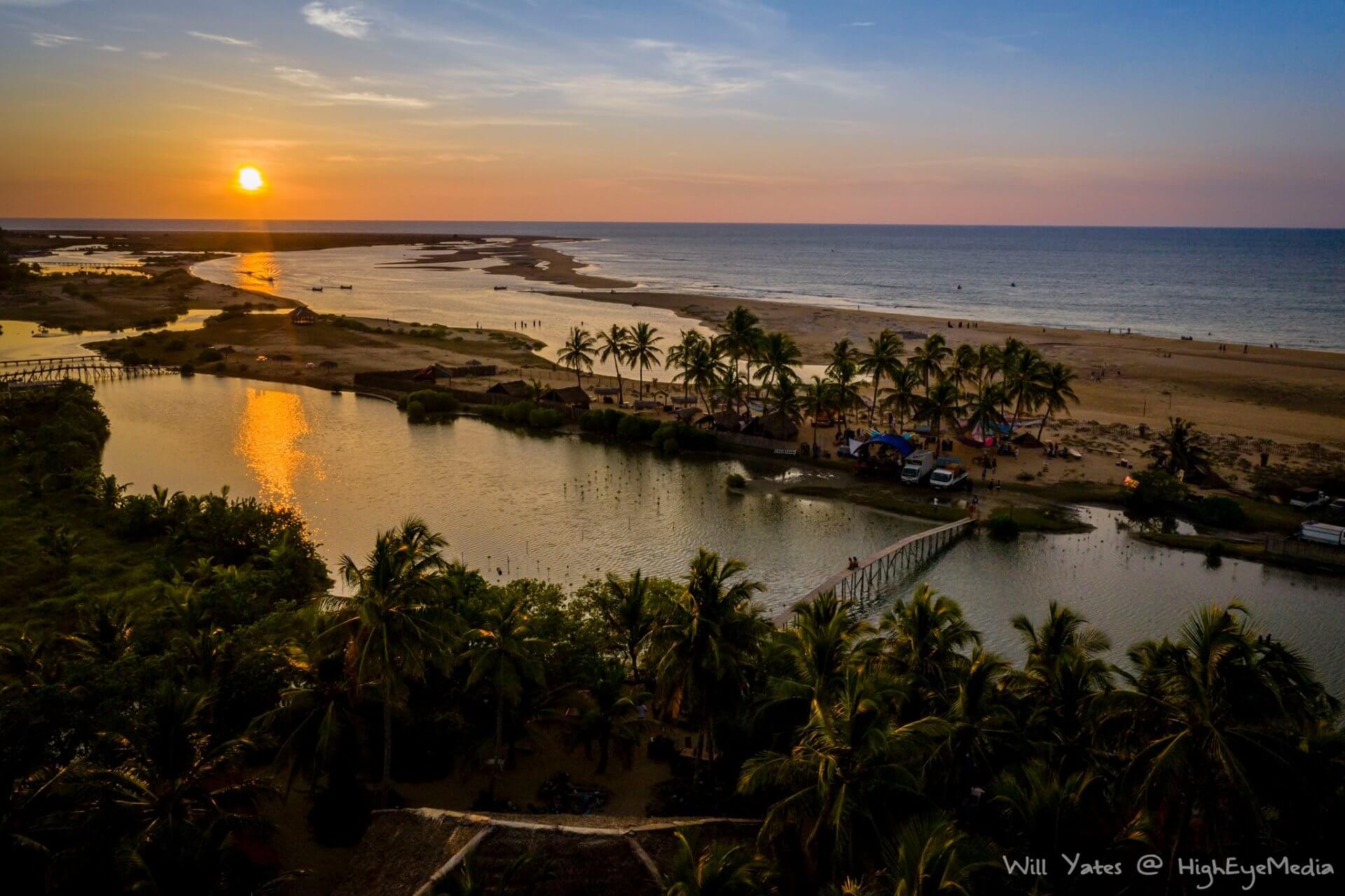 There are many spots in a few kilometers, which is perfect for downwinds from one spot to another.
KITESURFING SPOTS IN KALPITIYA – SRI LANKA:
KALPITIYA LAGOON
Perfect spot for begginers and freestyle. Close to the kitesurfinglanka school, where you can have kite lessons, rescue boat andequipment renting.
VELLA ISLAND – KSL HIDEAWAY
Consider one of the best places in the world for kitesurfing. Need to access by boat from Kalpitiya. It is a small sandbar island, in which downwinds are made through fishing villages.
DONKEY SPOT
Wave and flat water spot, where the wind is very stable and constant. Only 300m away from the kitesurfinglanka school.The wind is very stable and constant.
PUTTALAM LAGOON – THE BIG KAHUNA
30km long and 15km wide, it is a huge lagoon with flat water. Perfect for downwinds ending near Kalpitiy or sailing around.
DREAM SPOT
Dream spot is a spot where there is a sand barrier separating a wave spot in the Indian Ocean with a flat water lagoon. Only 15 minutes by boat from the Kalpitiya lagoon.
KAPPALADI LAGOON
Spot located in front of the Elements Hotel, is a small flat water lagoon that is not connected to the sea so it is very safe and only 15 kiters fill at the same time.
More info about kitesurfing trips in https://www.kiteworldmag.com/travel-home/
Information
Kitesurf School