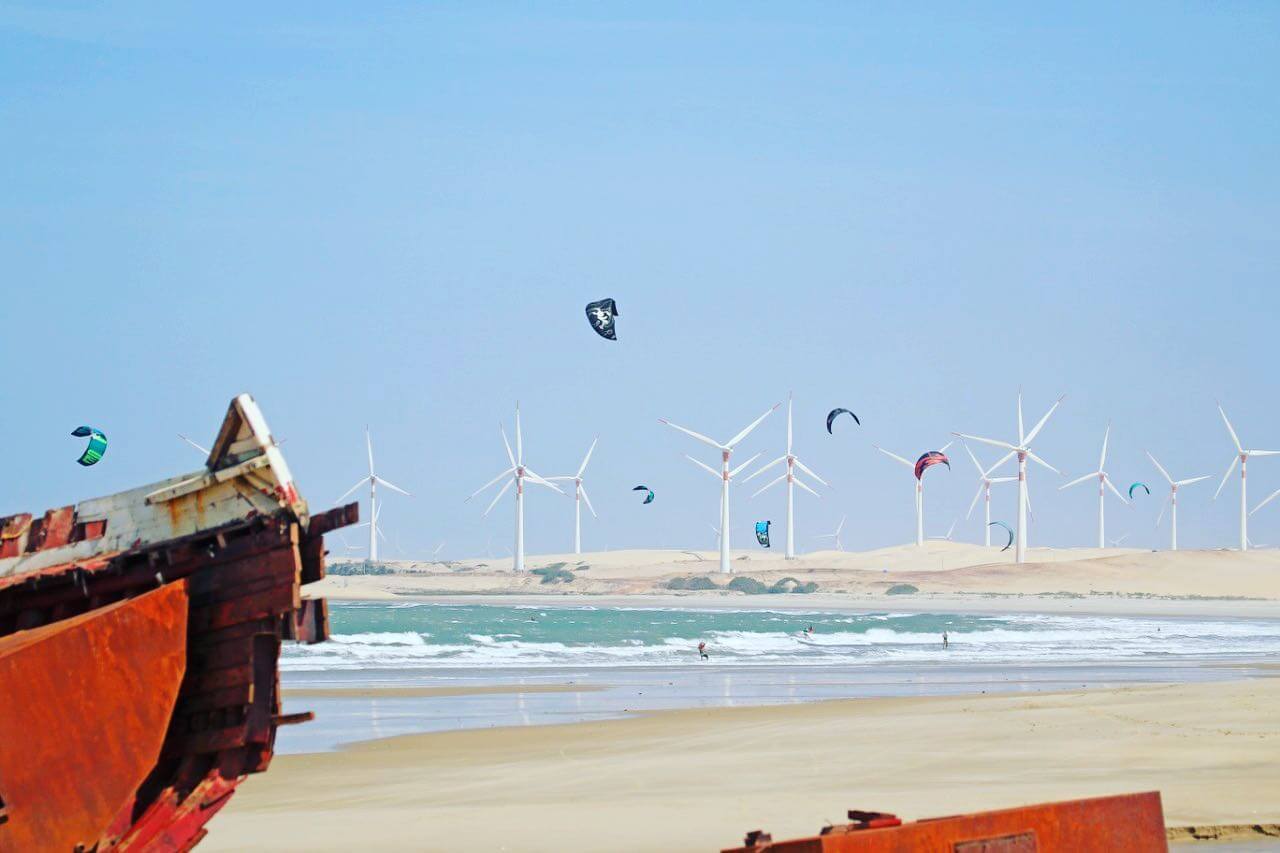 Focus on the small elements…
FREERIDE KITESURF'S trips are all about combining adventure and a personal challenge with time to get to know, relax and enjoy the places you'll visit. Unique downwind adventures and tailor-made trips in Brazil, Spain and South Africa are Freeride's speciality. Visit some of the world's top kiting locations with a stellar crew of fellow kiters or discover unspoilt and uncrowded spots with unreal conditions. A new offering this year is a downwind trip along the best wave spots in Brazil, focused on improving your wave riding technique. The Freeride Kitesurf team have a vast knowledge of the locations they visit and all details are taken care of. You just need to show up and tear-it-up!
BRAZIL'S DOWNWIND KITE SAFARIS AND WAVE CLINIC DOWNWINDER
Freeride Kitesurf offer different downwind kite safari routes in the northeast of Brazil that combine challenge and adventure, as well as time to relax in some of the region's top kite spots.
POPULAR ROUTES:
CLASSIC ROUTE – TAIBA TO JERICOACOARA
The best spots in Ceará, covering 230 kilometres in 14 days. Exotic landscapes, hidden lagoons and great waves along a beautiful, long stretch of coast.
WILD NORTH ROUTE – BARRA GRANDE TO ATINS
13 days immersed in exuberant nature, crossing the Delta of Parnaíba and exploring the Lençois Maranhenses National Park. The best waves and flat water spots in a 200 kilometre trip that will reconnect you with the elements.
FLAT WATER SPOT ROUTE:
TREMEMBÉ TO IGUAPÉ
Essentially flat water spots all along the way, with small waves at times along the downwind journey. Ten days, 200 kilometres, butter flat water spots and authentic local villages along the way.
DISCOVERY ROUTE:
SÃO MIGUEL DO GOSTOSO TO ICAPUÍ
Over 200 kilometres you'll enjoy wave and flat water spots along the most beautiful stretch of coast in the state of Rio Grande do Norte.
NEW OFFERINGS:
DOWNWIND WAVE CLINIC
There's no better way to improve your wave riding technique than by riding downwind and concentrating purely on shredding the waves. Strong, steady winds will also help you discover the best wave spots in the northeast of Brazil. Eight days, four spots and fun waves between one and two metres in height with excellent accommodations each night.
DELTA LENÇOIS EXPERIENCE
Kite along the wildest stretch of coastline in the whole of Brazil's northeast coast. Cross the biggest delta of the Americas by kite and end the trip in a totally unique place, the Lençois Maranhenses National Park – a desert of fine white sand dunes and crystal clear fresh water lagoons. An amazing experience of seven days and 160 kilometres.
INTRODUCTION TO THE DOWNWIND EXPERIENCE
Based in Jericoacoara, you will do a short downwind on each of the four days, during which you'll learn all about the downwind technique while exploring the wonders of Brazil's northeast coast.
TAILOR MADE TRIPS
Freedom, adventure and fun in the best locations worldwide! Let your imagination go wild and build up the trip of your dreams with Freeride Kitesurf's support and advice in Brazil, Spain or South Africa. Whether it's a solo trip, an adventure with a group of friends or family, or a journey with your significant other (kiter or non kiter), Freeride Kitesurf's team will help you make it a reality. From a one-stop trip to multiple spots or an expedition which mixes day trips, short downwinders and tuition to improve your level; anything's possible.
Freeride Kitesurf offer two types of tailor made trip:
• Pure downwind trip (only in Brazil) – minimum of three people. Decide the area you want to explore and Freeride Kitesurf will plan the rest.
• Non-downwind trip (any destination) – open to any group size and can be as adventurous as you like and as long as you want.
SOUTH AFRICA
Freeride Kitesurf run trips for all levels of kiter that will take you beyond the regularly visited spots close to Cape Town.
Maybe you'll head up the west coast to epic wave spots like Yzerfontein or Paternoster or the flat water havens of Langebaan and Saldanha. Freeride Kitesurf also head east to Witsand, Hermanus and Struissbaai, which is a totally different experience with even more epic, crowd-less spots.
SPAIN
This year Freeride Kitesurf are also expanding their network of trips and locations to run clinics in the kiting capital of Europe – Tarifa!