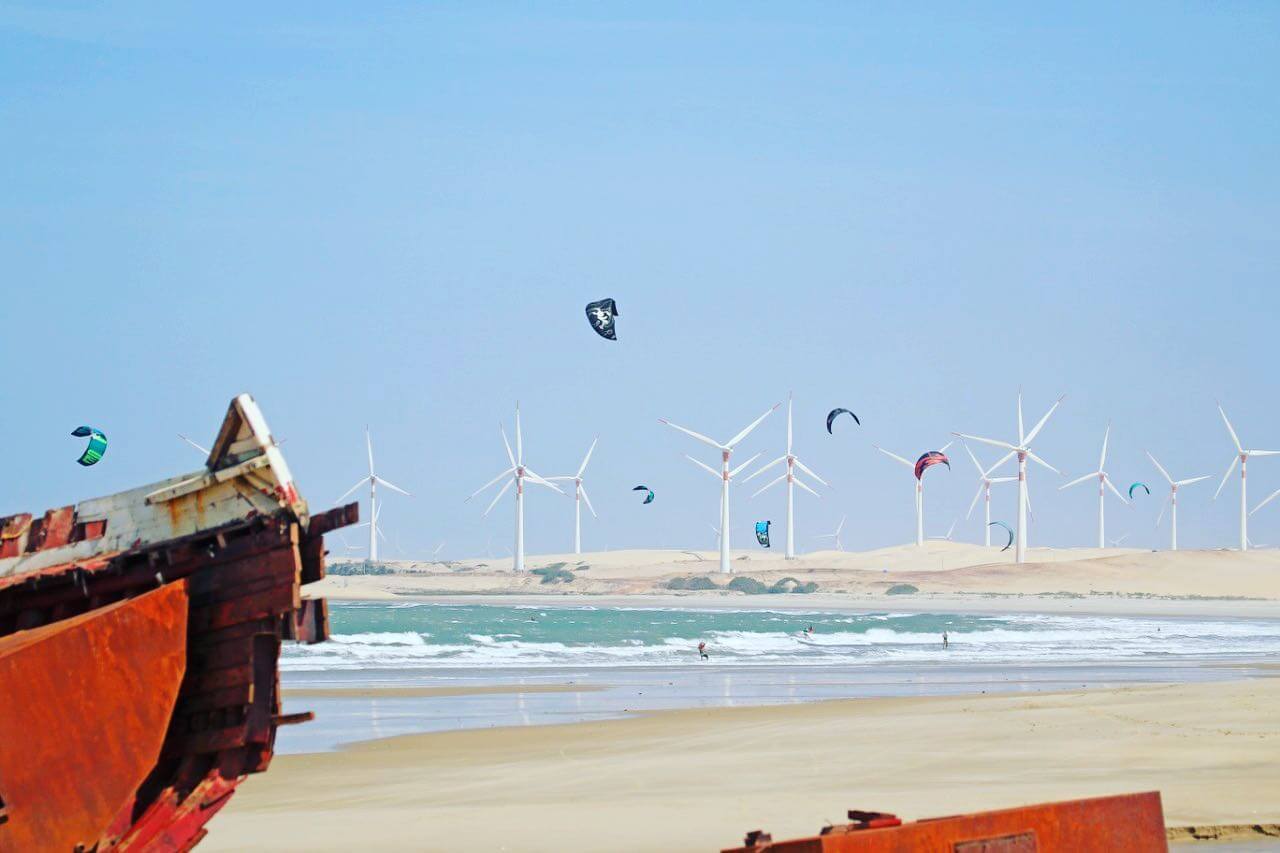 We recently lived downwind Brazil, one of the best kitesurfing trips of our lives and an experience we will never forget, a downwind through the northern part of Brazil from the Fortaleza region.
Paracuru
Paracuru is a municipality to the northwest of Fortaleza and is one of the top kitesurfers' destinations in the world. Paracuru offers perfect wind, wave and flat water conditions. Considered one of the best wave spots in Brazil. The town is very lively with restaurants and all the amenities you may need to have an unforgettable experience. The premises are very welcoming and you will feel at home.
Ilha do Guajiru
Ilha do Guajiru, is 2 hours by car from Fortaleza, in Itarema. It is a very characteristic kitesurf spot with a long stretch of sand that divides the sea with a huge lagoon, one of the largest in northeast Brazil. With a paradisiacal landscape with coconut trees, white sand dunes and a turquoise aqua with inns right in front of the spot. The wind is strong and constant and there is usually wind for 8 months. It is a very good spot for lovers of freestyle and flat water
Accommodations:
Guajirú – "Pousada Vila Vagalume"
Pousada Vila Vagalume is located in front of the sea on Guajiru Beach. You leave the house and you are already on the same beach
Ilha do Guajirú – "Ilha do Guajirú Kite Safari" Sahara tents with all the comforts, electricity, internet … in front of the Guajirú beach
Moitas (Icaraizinho)
Icarai da Amontada, known as Icaraizinho, is a small town located on a bay. Still wild and not very touristy, it is a paradise although every day it is becoming more popular with luxury inns on the beach and restaurants with an authentic atmosphere.
In Icaraizinho you can find several spots with different conditions.
Moitas (Icaraizinho) – "Villa Depraia Moitas"
An exclusive Villa for the buscokite team
Jericoacoara
Jericoacoara, known as "Jeri" is a global destination for kitesurfers from all over the world and where the GKA world kitesurfing championship is held. An authentic place that is becoming more and more famous every day that still preserves its essence of a relaxed and welcoming atmosphere with a spectacular landscape that surrounds it, making Jeri one of the top destinations for kitesurfers from all over the world.