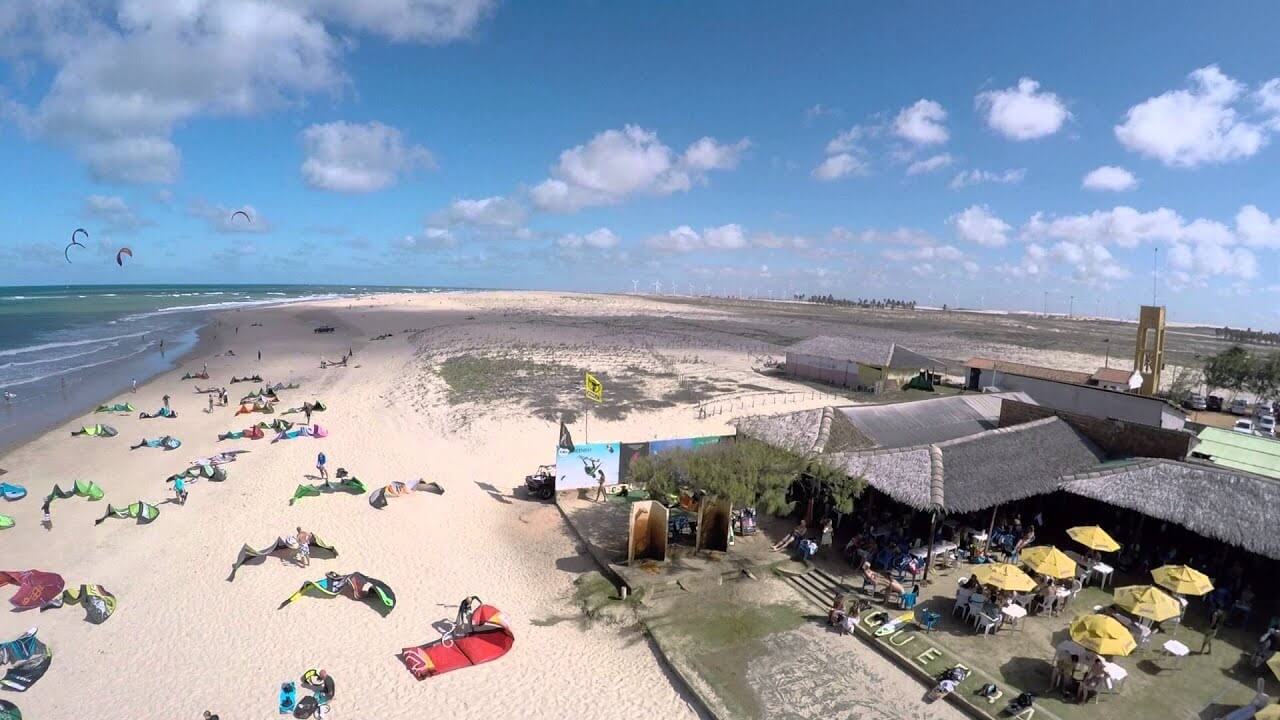 ON THE WATER
An hour north of Cumbuco, Paracuru boasts a flat water lagoon as well as classic freeriding conditions and some of the most legitimate wave riding in the area. This is one of the busier towns on this section of Ceará's coast with awesome kiting to the north and south. Taiba is another of Brazil's top spots, less than an hour away.
The main kite beach is a couple of kilometres from the town itself where you'll find all of the pousadas, restaurants and bars, but it's only a couple of minutes drive in a beach buggy and most of the pousadas offer transfers. There's also a restaurant and bar at the spot.
Paracuru's main spot is tidal, so you can sometimes get two flat water sessions in a day. There's a reef a few hundred metres offshore with waves kicking up on the outside on lower tides before the lagoon fills up for flat water shredding on high tide. There's not a lot of space on the inside when the tide's low, but if you get there early then you and a couple of friends can score your own private mini-lagoon sesh!
Paracuru is located in a downwinder-rich region of Ceará that offers up countless adventurous routes and companies like Freeride Kitesurf and Surfin Sem Fim can arrange some epic excursions during your stay. Kitefriends Paracuru also run downwinders closer to town.
WIND, WEATHER AND WATER
The season starts up properly in August and runs until January (September to November are the peak months) and you'll get very similar winds here as in Cumbuco, (in fact it's generally windier here because it's a bit further north). Expect 18 – 26 knots daily between 10am and 4pm before it backs off a bit ahead of sunset, which is around 6pm. Daytime temperatures hover at around 29°C / 84°F before dipping to a balmy 23°C / 73°F at night. The water temperature sits at a comfy 27°C / 80°F for the majority of the year, so no wetsuits are needed.
OFF THE WATER
Close to the spot there's a popular restaurant serving all sorts of classic Brazilian beach foods all day long. A local favourite is the 'Baião de Dois' rice dish and there are chicken and meat dishes too, but the real treats are the fish options.
Paracuru is well equipped with restaurants; much more so than the majority of villages you'll pass along the way. This, along with its close proximity to Fortaleza airport (90 minutes) and a variety of kiting conditions, make it a popular spot. In season, Paracuru usually has a good crowd of kiters around town and it's lively in the evenings, too. There are cocktail bars and restaurants close to the main square in the town as well as a mix of traditional Brazilian restaurants. Most pousadas serve lunch and dinner.
It's very rare to encounter a no wind day during the season but, if you do, there are the regular activities, such as surfing, buggy tours, capoeira, yoga, beach walks and of course chilling by the pool or on the beach.
AIRPORT
Fortaleza Pinto Martins (FOR) is 90 minutes from Paracuru. Check with your accommodation for transfers or hire a car – there is a lot to explore!
In Paracurú you will find your ideal spot to spend your Kite holidays, in a place where the wind conditions are unbeatable. With the trade winds blowing every day with an average of 18 to 25 knots.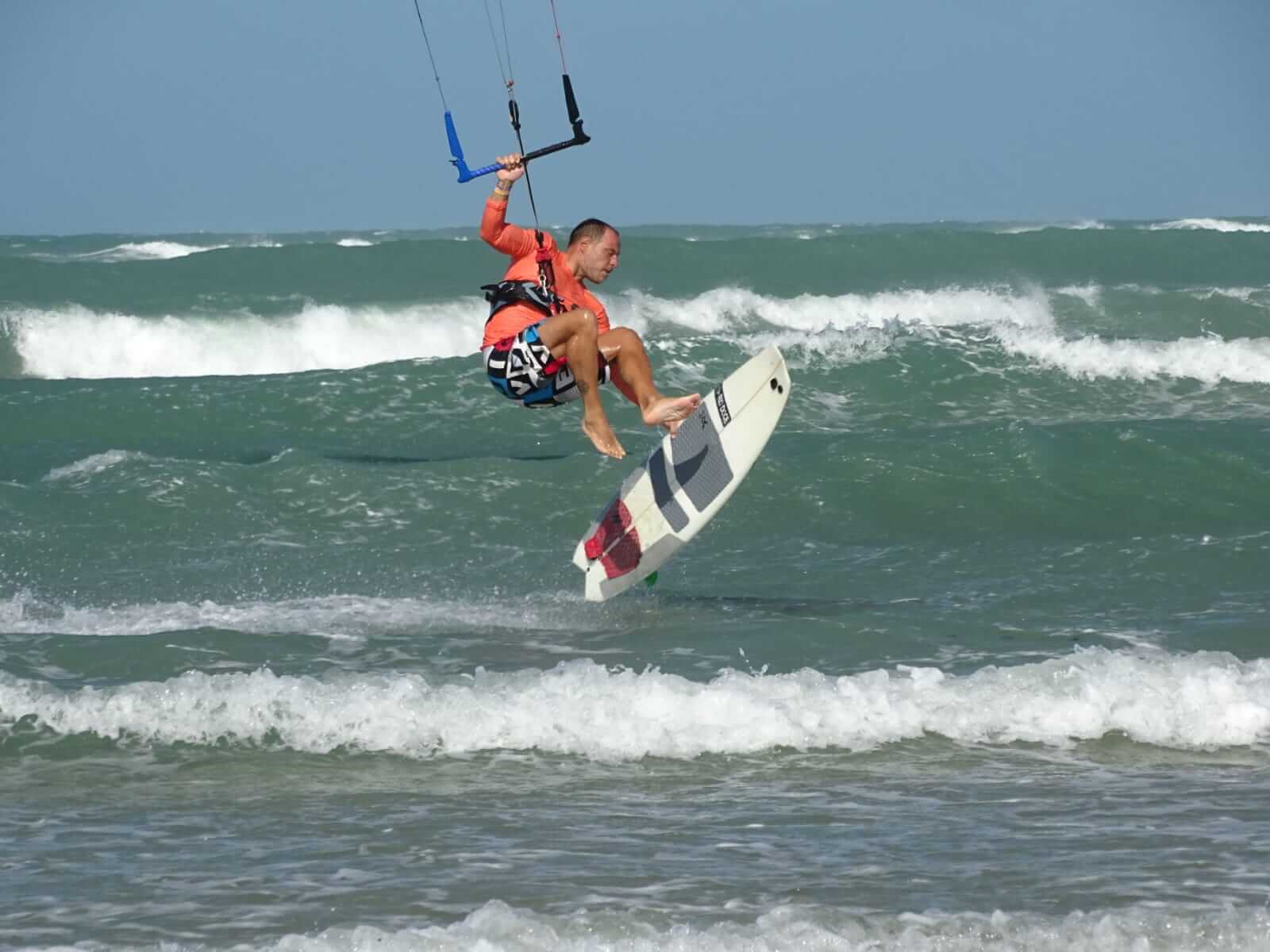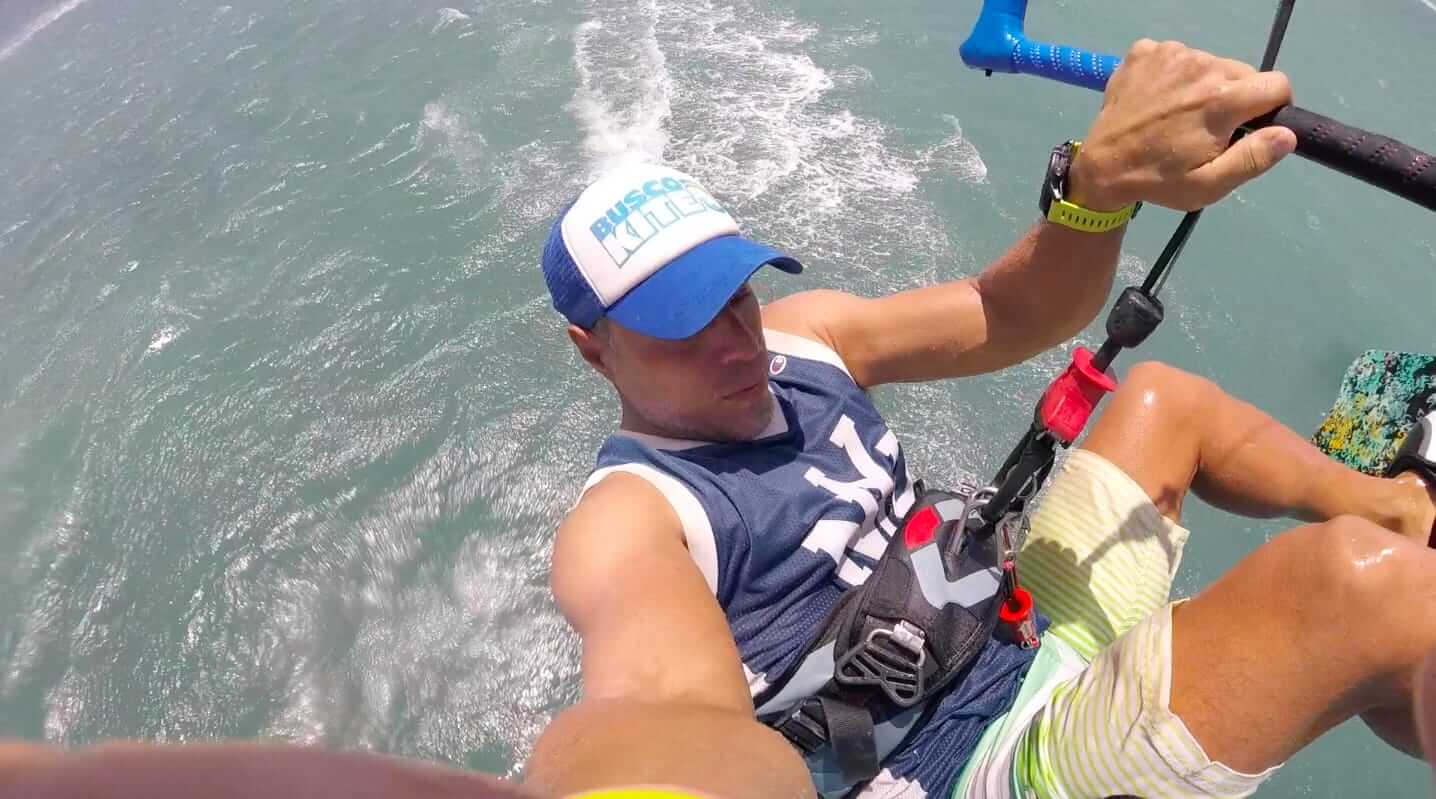 The village of Paracurú is 1.5 hours from Fortaleza, it is an authentic village where you can also enjoy the kite, its cuisine and its way of life, because although it is very visited by the kiter, it has a population of 30 thousand inhabitants approximately and it is perfect for when you finish your kite session to be able to enjoy a good dinner in its varied restaurants and chiringuitos that abound in the center of town.
It is a very quiet town and on Saturday nights the town square takes color as everyone gathers in the square to listen to the concerts and take their wonderful beer Skoll "bem gelata"  In terms of wind and weather, as in the whole Northeast of Brazil, it is a tropical climate with average temperatures of 27 degrees, but the best is the water temperature of around 28 degrees, which allows you to navigate with a Lycra only, although You must bring a powerful cream since the solar radiation is very strong. Although the wind blows almost all year round, the season is from September to December, where you have the wind assured daily.
QUEBRAMAR SPOT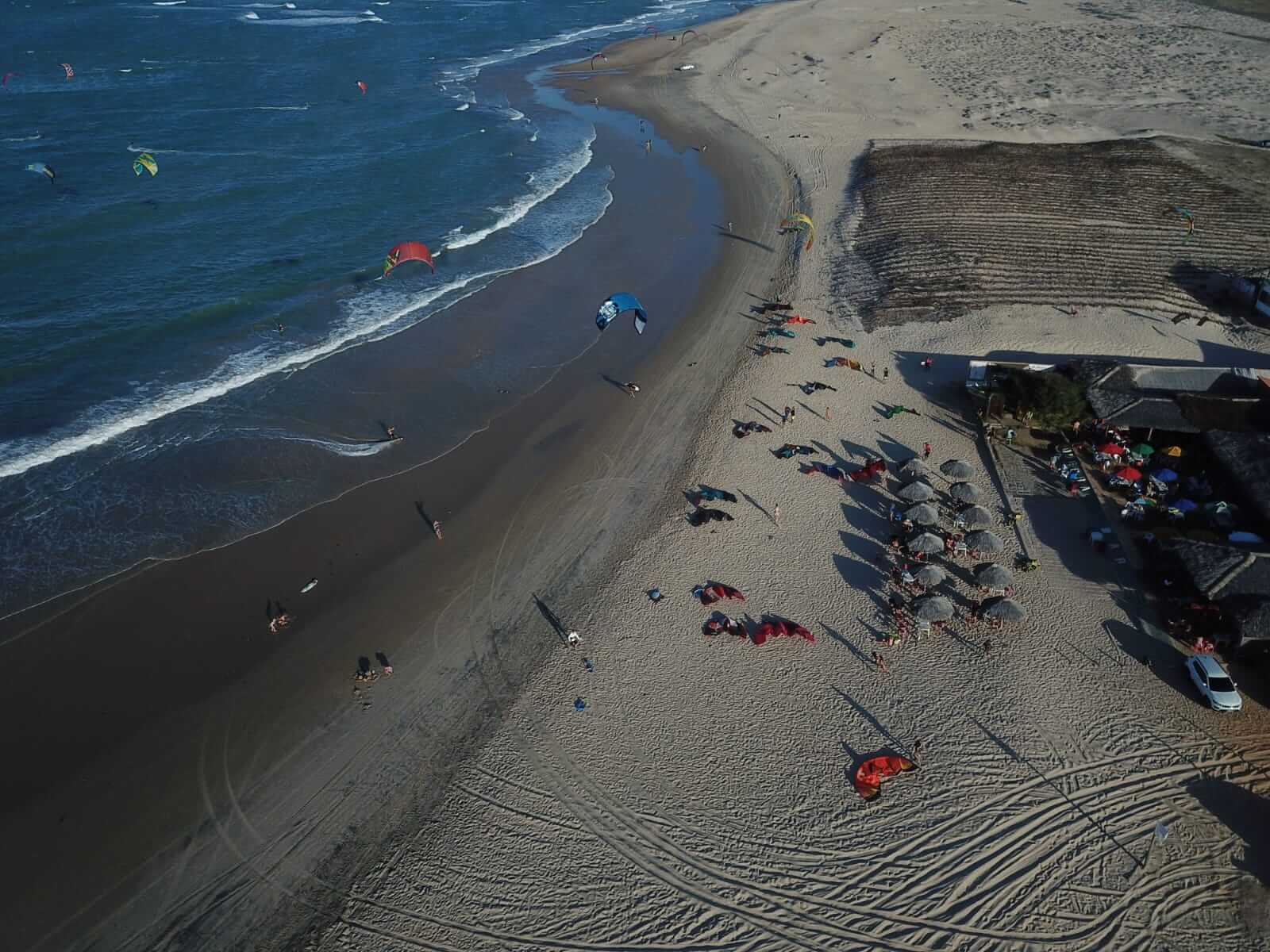 In Paracurú there is a spot in the barracks of Quebra Mar, it is located about 2 km from the town, so you will need to rent a car or a motorcycle, or you can go every day by taxi for just over 4 reais. In the spot there is a restaurant (Quebramar) a couple of schools where you can leave your material in a "locked" once you arrive on the first day for 10 reais a day, you have "locked" open or locked, and although it seems I miss your material is safe, so every day you just go to the beach with your swimsuit and your flip flops, having all your material available at any time, as they close when you go last kiter.
As for the Spot, it is ideal if you like the waves, since it has a reef bottom at 200 meters so the wave breaks away from the shore, and at low tide, 2 hours before low tide and 2 after the high tide, flat water remains for freestyle lovers.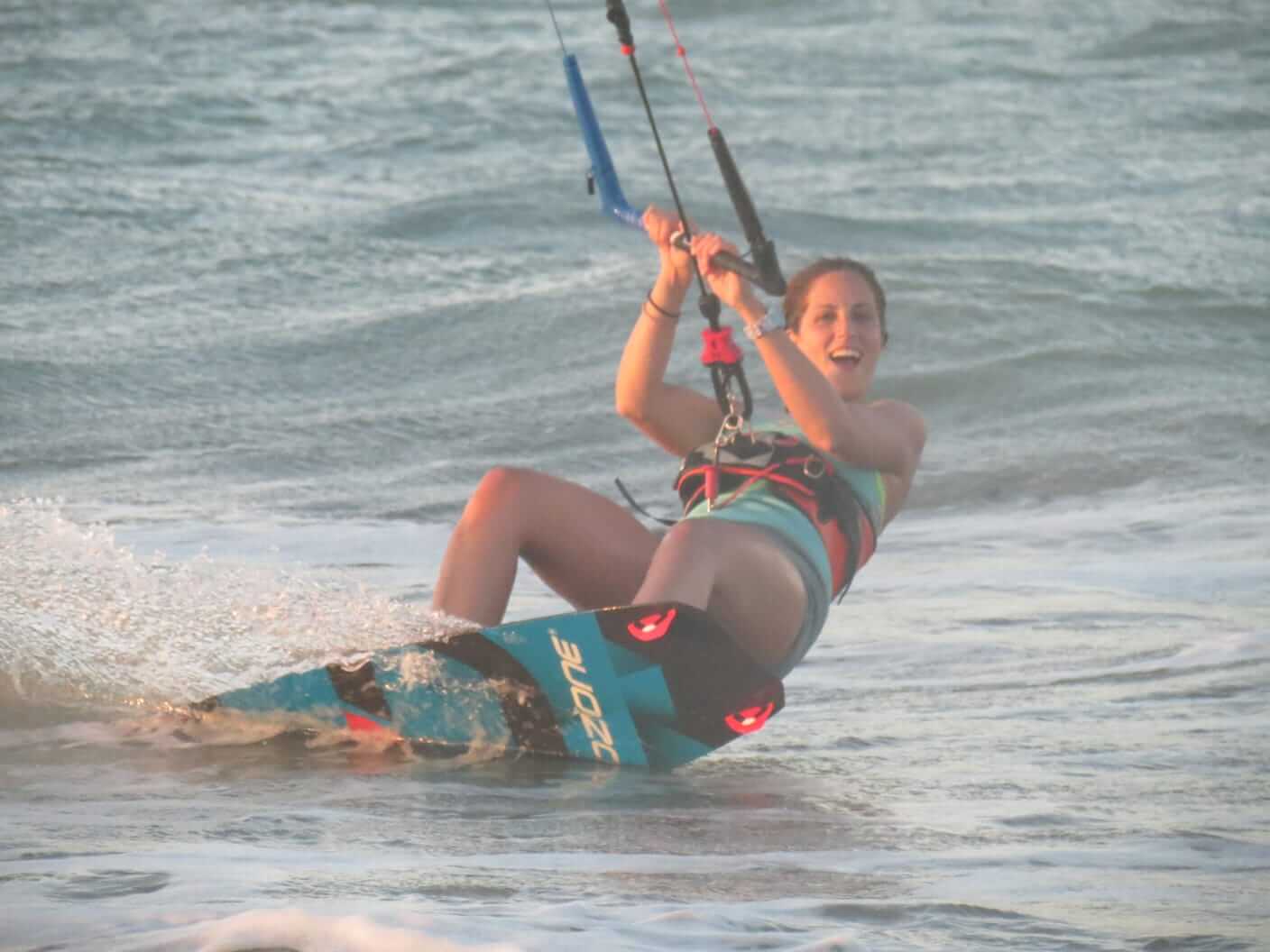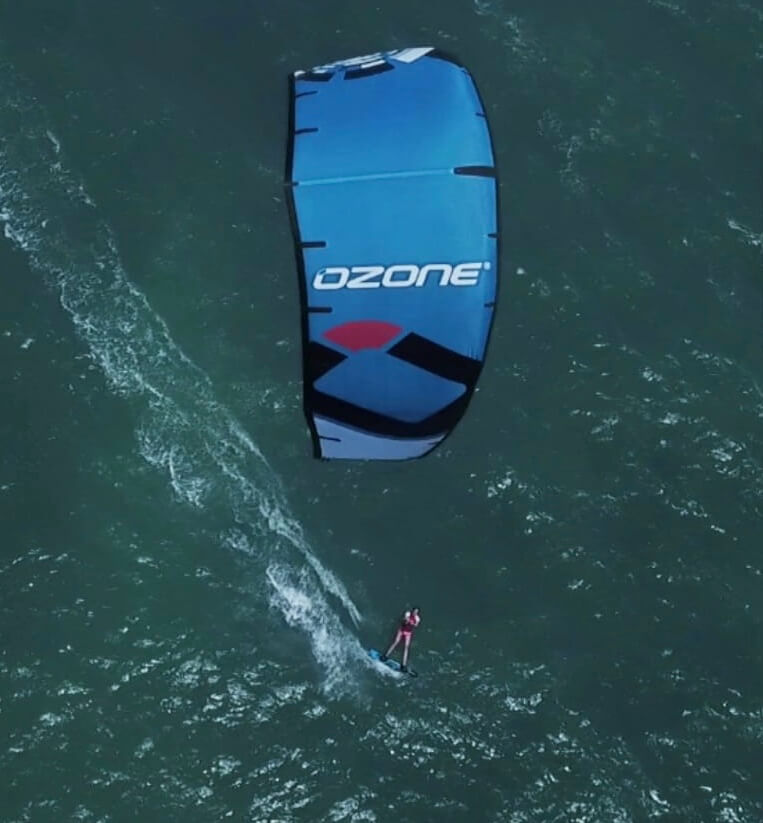 This makes it a spot for all levels, but you have to keep in mind that the waves can get big if you go to the reef. Very leeward of the spot there are some sticks that are used by fishermen and at low tide are very visible, this is the only thing to consider. If you want to make sure you sail every day, bring your kite between 6 and 10 meters depending on your weight, usually the girls usually go with 6 or 7 meters and boys 7 or 9 meters and of course your wave board and your twentip, what you prefer .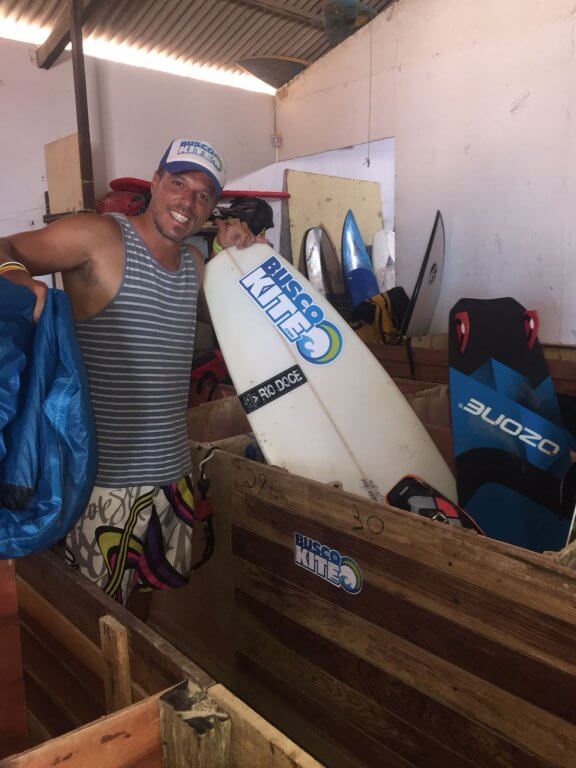 From the spot of Paracurú you can also do downwind:  Taiba-Paracuru 24 km (intermediate) Lagohinha -Emboaca 35 km (all levels)  In addition to being able to go up to Jericoacoara from downwind, which will take you about 4 or 5 days if you want to do it quiet.
More info about Paracuru:
http://www.portalparacuru.com.br/
ACCOMMODATION
PARACURU KITEFRIENDS LUX POUSADA is one mile from the kite spot and offers free wifi and breakfast. A swimming pool, beautiful gardens, barbecue facilities and a bar are also on hand. Rooms have air conditioning, minibar, queen-size beds, plasma TV with satellite and individual safes. Contact: see below.
Information
Kitesurf School
Restaurant